Escape to Mexico! —

Why Living in Mexico for the Winter Makes Sense
| | |
| --- | --- |
| Language - | Spanish |
| Population -  | 130,000,000 |
| Density - | 170 people/ sq mile |
| Capitol - | Mexico City |
| Currency – | Mexican Peso (MXN) |
| Size -  | 1,972,550 km2 (761,610 sq mi) |
| Flag - | Mexican Flag |
Living in Mexico for the winter is an excellent choice for many.  Bordering the US makes it highly accessible to either fly or drive.  And Mexico is also very affordable with an excellent exchange rate, even for the Canadian dollar… helping stretch your dollar a long way.
About Mexico
Mexico is a longtime favorite for winter travelers and vacationers from the US and Canada.    
With so much North American tourism, you can find great deals on airfare to many of Mexico's tourist hubs.  Depending on your final destination, you can then catch a cab or a bus to your favorite village or town where you're living in Mexico for the winter.  
Geographically diverse, Mexico has 9,330 Kilometers or 5,800 miles of coastline, plains, deserts, mountain ranges, pine forests, and vast agriculture fields.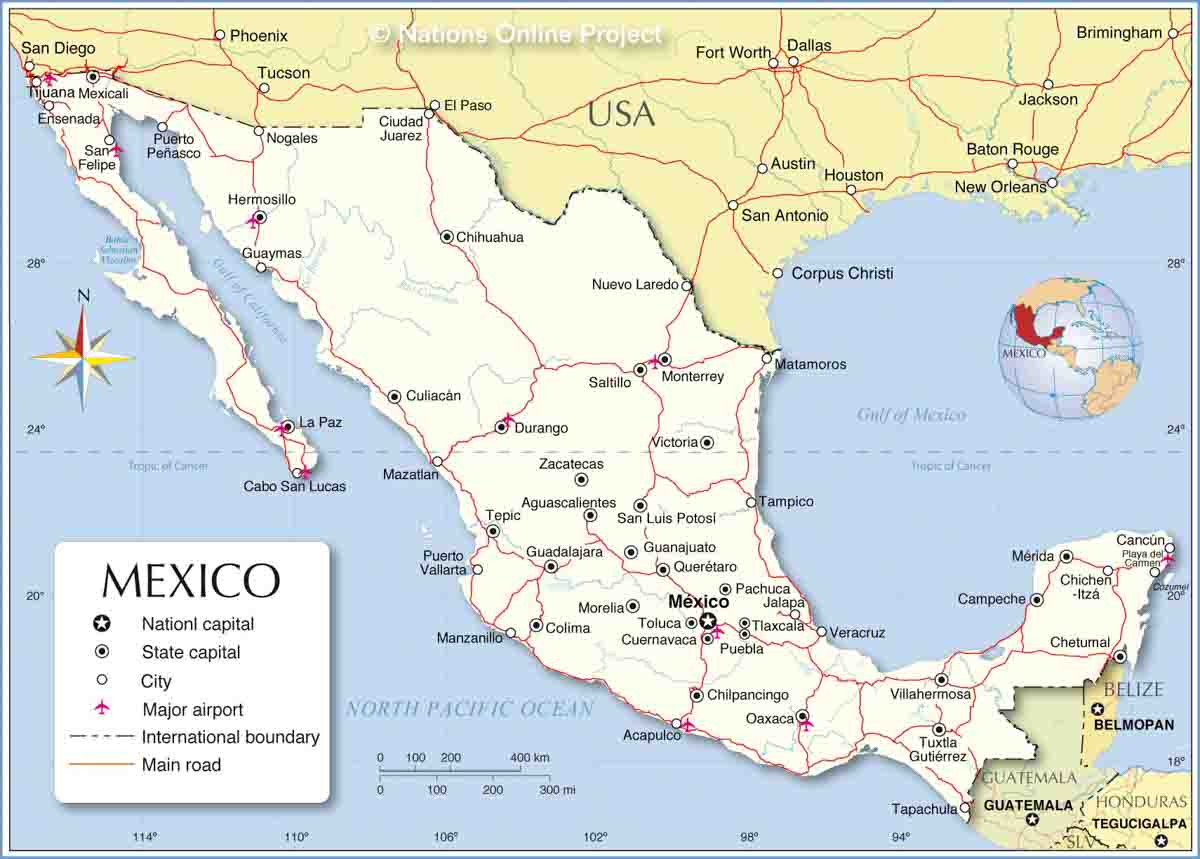 Map of Mexico
Average Weather
While consistently warm in Mexico, elevation impacts the weather.  It's warmer and often more humid at the seaside than in the highlands.  
In January along the Costa Alegre, for example, midway on the Pacific coast, average daily high temperatures are about 30 °C or 86 °F, with average lows around 20 °C or 68 °F.    
While in the highlands at popular San Miguel de Allende, in January, high temperatures are around 21°C or 70 °F with nightly lows of about 7 °C or 45 °F.  
With generally warm temperate weather, living in Mexico to escape a bitter northern winter lures many snowbirds south.  
Walking on a quiet beach in Mexico
Baja
The Baja is a thousand-mile peninsula extending from California in the US, with the Pacific on its western shoreline and the Sea of Cortez between it and the Mexican mainland.  At the bottom of the Baja peninsula lies touristy Cabo San Lucas and San Jose del Cabo.  
With a long history of being California's backyard, the Baja is home to many spectacular beaches along its lengthy coastline.  But it can be a little cool and windy in the winter months for some.  It's warmer at its busy southern end, though.  
The largest city on the Baja, La Paz, has a safe harbor and a ferry to Mazatlan on the mainland.  Loretto is a quiet seaside town north of La Paz.  And Todas Santos is an artsy little village off the Pacific coast, not far from Cabo.  
San Carlos Bay
San Carlos Bay sits on the Sea of Cortez, beside the city of Guaymas on the Mexican mainland, north of Mazatlan.  This seaside village has a lovely marina and is only about a 5 or 6-hour drive from the US border, south of Tucson, Arizona.  
San Carlos has a quiet beach and a small but loyal following of winter visitors.  
San Miguel de Allende
San Miguel de Allende is a colonial city in the Mexican highlands, with one of the largest ex-pat populations living in Mexico.  It attracts artists, with many galleries and events.  And is home to a wide selection of restaurants, cafes, shops, and hotels.  
Its historical center is a UNESCO World Heritage site, with cobbled streets and colonial buildings.  
Lake Chapala and Ajijic
Lake Chapala and Ajijic, in the Mexican highlands near Guadalajara, are longtime favorites with ex-pats.  The active ex-pat community promotes arts and culture with local events, galleries, and theatre.  

Puerto Vallarta
Busy Puerto Vallarta on the Pacific, and the quieter neighboring seaside towns of Nuevo Vallarta, Bucerias, and Rincon Guayabitos, attract many snowbirds escaping winter.    
There's plenty to do, from fine dining to street food to beach sports. —And besides the many shops and boutiques, there's also a Costco and Sams Club.  
Melaque & Barra de Navidad 
Melaque and Barra de Navidad are adjoining villages on a quiet bay north of Manzanillo, on the Pacific coast.  Manzanillo airport services the area, with international flights from several Canadian and American cities.  
Melaque's shops and markets have a variety of goods, food, and local produce.  And the nearby Mexican town of Cihuatlan has more.  Barra de Navidad and Melaque have many restaurants and cafes, with Barra having access to a great marina.  
These villages sit in the Costa Alegre region and are very popular, particularly with Canadian snowbirds living in Mexico for the winter.  
Street Food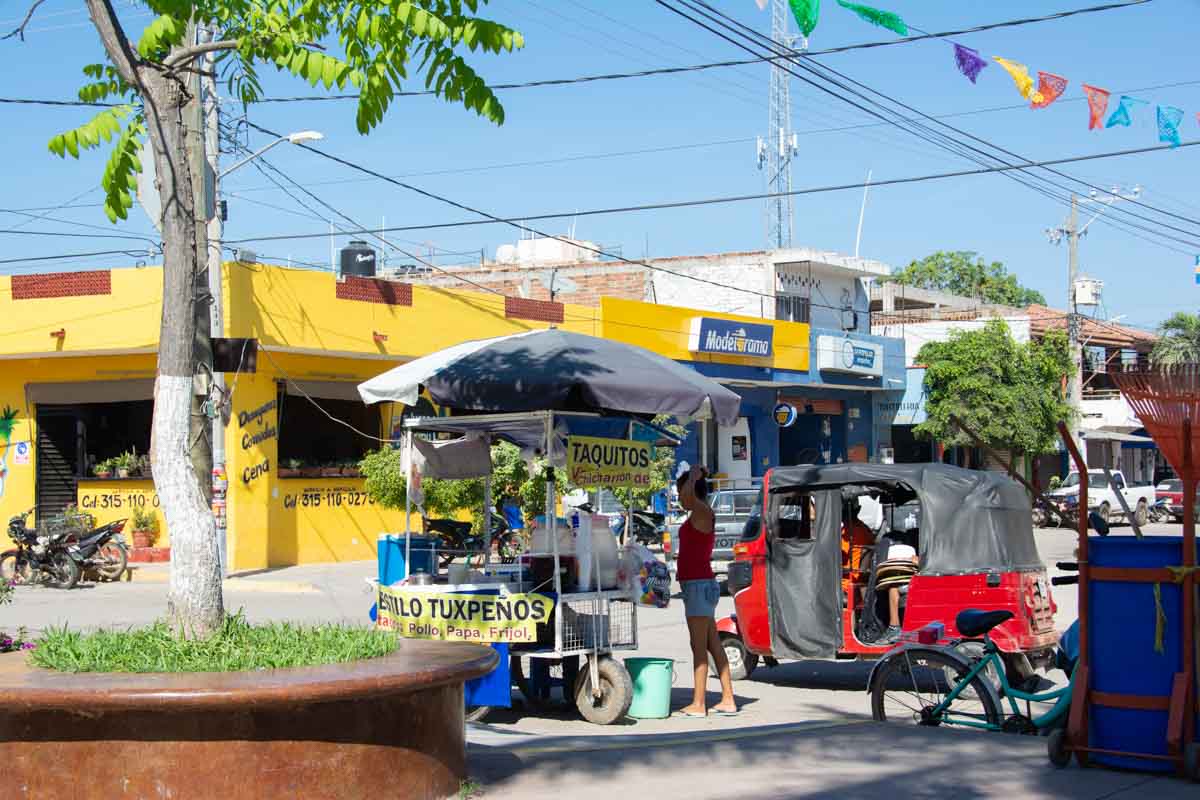 A taco cart in Mexico
Mexico is known for its delicious street food.  From lunchtime BBQ'ed chicken on roadsides to evening taco stands on the street to yummy churros at the village square some nights, you'll find each vendor with their own spot and specialties.  
Ask around, or watch for the busiest stands or stalls, and sample what your Mexican community has to offer.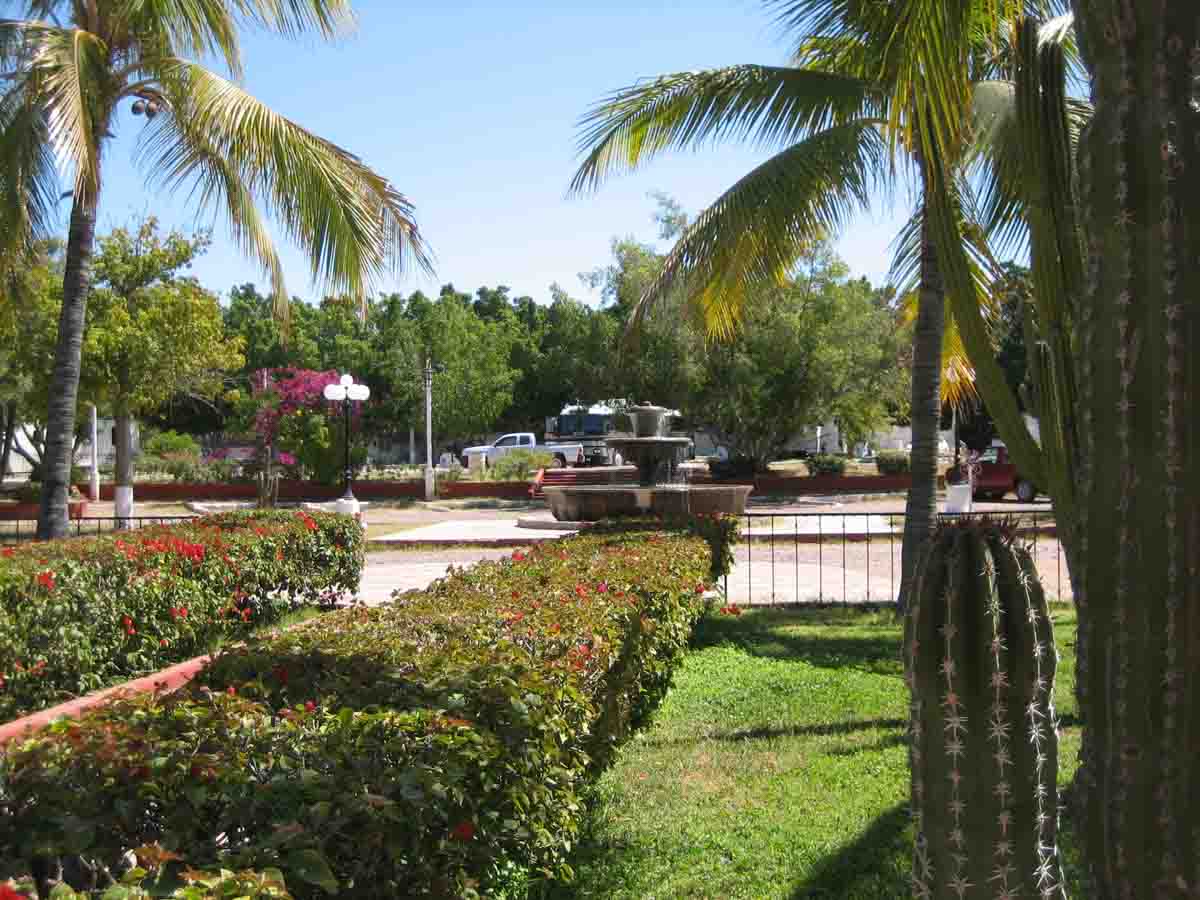 Our MCI Bus parked at a Mexican RV Park
Village Squares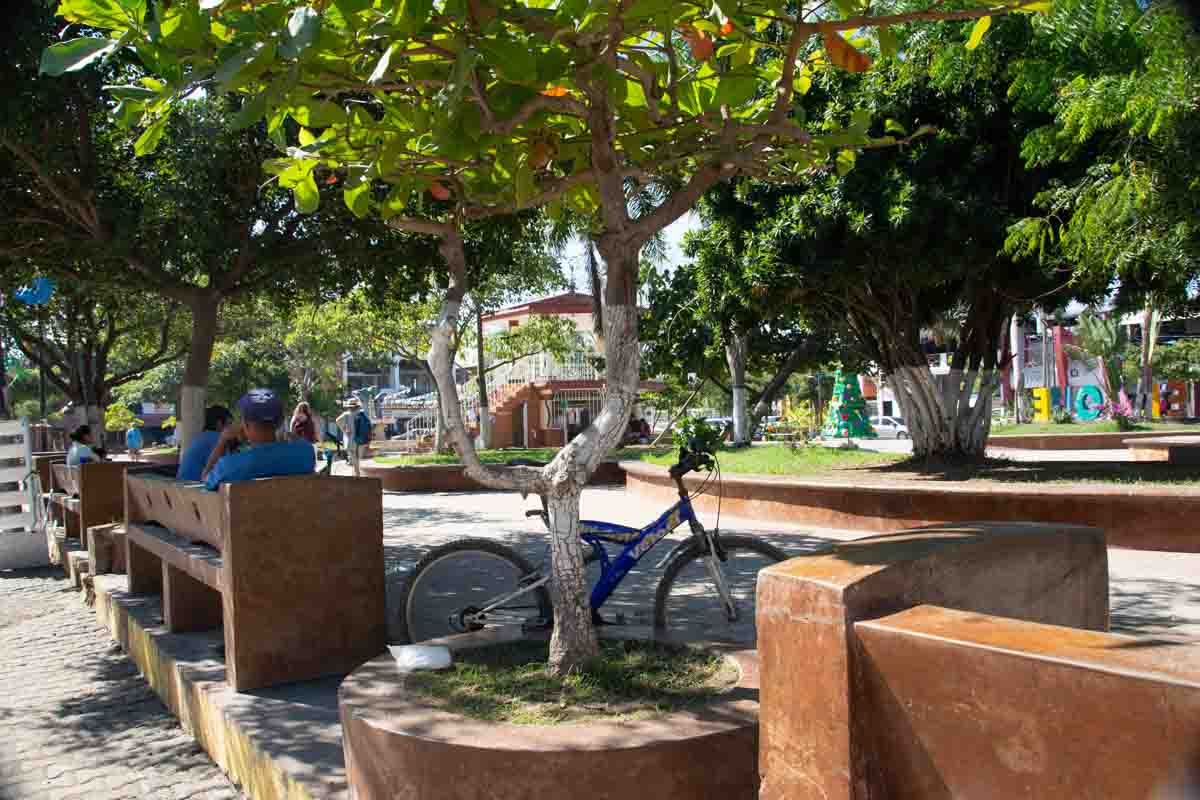 A shady village square in Mexico
Many Mexican towns and villages have a well-used square in their center.  Folks sit on shady benches in afternoons and come evening, families and couples stroll about. — And in many squares, vendors set out their wares.  
Your Laundry
A typical Mexican Lavanderia
You'll find mom-and-pop shops in every Mexican community offering laundry services.  Whether you're on the road or living in a Mexican village for the winter, there'll be a Lavanderia nearby.    
These family-run businesses will weigh your laundry and give you a pickup time.  When you return later in the day, your wash will be cleaned, dried, and neatly folded.  All for just a few pesos.  What's not to love about that?  
It's a good idea to drop your laundry off early in the day. — And you can expect they will close their doors through siesta time.  Also, it's wise to keep your hand washables at home and include items that can all go in the same wash… because they will.  
Cost of Living in Mexico
The cost of living in Mexico is remarkably low.  Grocery stores have a wide variety of items, and produce is cheap and fresh.  Some of your favorite imported brands may be a little pricy, but it's surprising the alternatives you can try.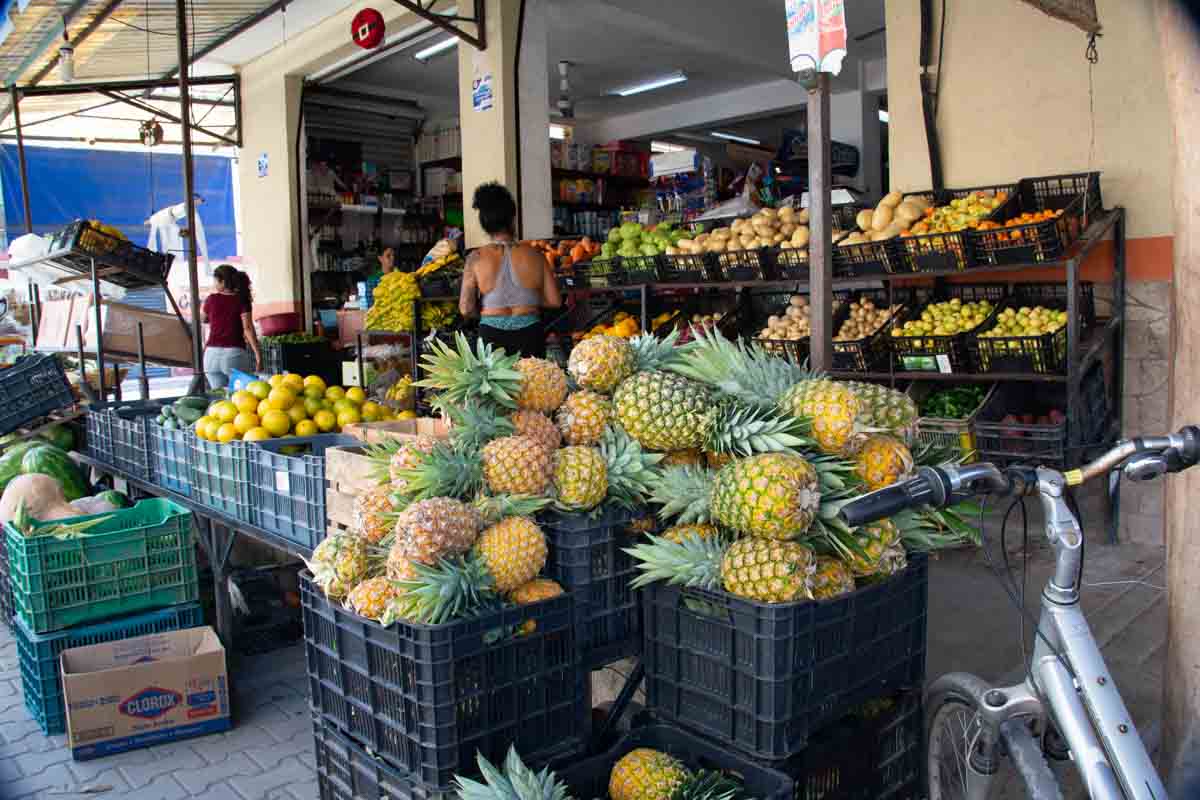 A market in Mexico
Healthcare
Healthcare in Mexico is excellent, with many Doctors and Dentists trained in America.  It's also extremely reasonable, with some folks taking a trip just to have dental work done in Mexico. 

Residency and Visa's 
Americans and Canadians can stay in Mexico for 180 days on a tourist visa.  So, this visa is often all a snowbird living in Mexico for the winter will need. 
To stay in Mexico longer, you can apply for a temporary resident visa or a permanent resident visa.  These visas must be applied for from a Mexican consulate outside of Mexico.  And you'll need to prove you have a sustainable income or assets.    
The Temporary Resident Visa is renewable for up to four years.  A Permanent Resident Visa allows you to come and go from Mexico at will and doesn't expire.  
Mexico has a lot to offer folks escaping winter. — From its warm climate to its easy accessibility to its first-rate healthcare and low cost of living.  It's no wonder Mexico is such a popular winter destination.  
Related Topics:
Should you rent or buy?
Whether to rent or buy is a question snowbirds often ask themselves.  Read full article...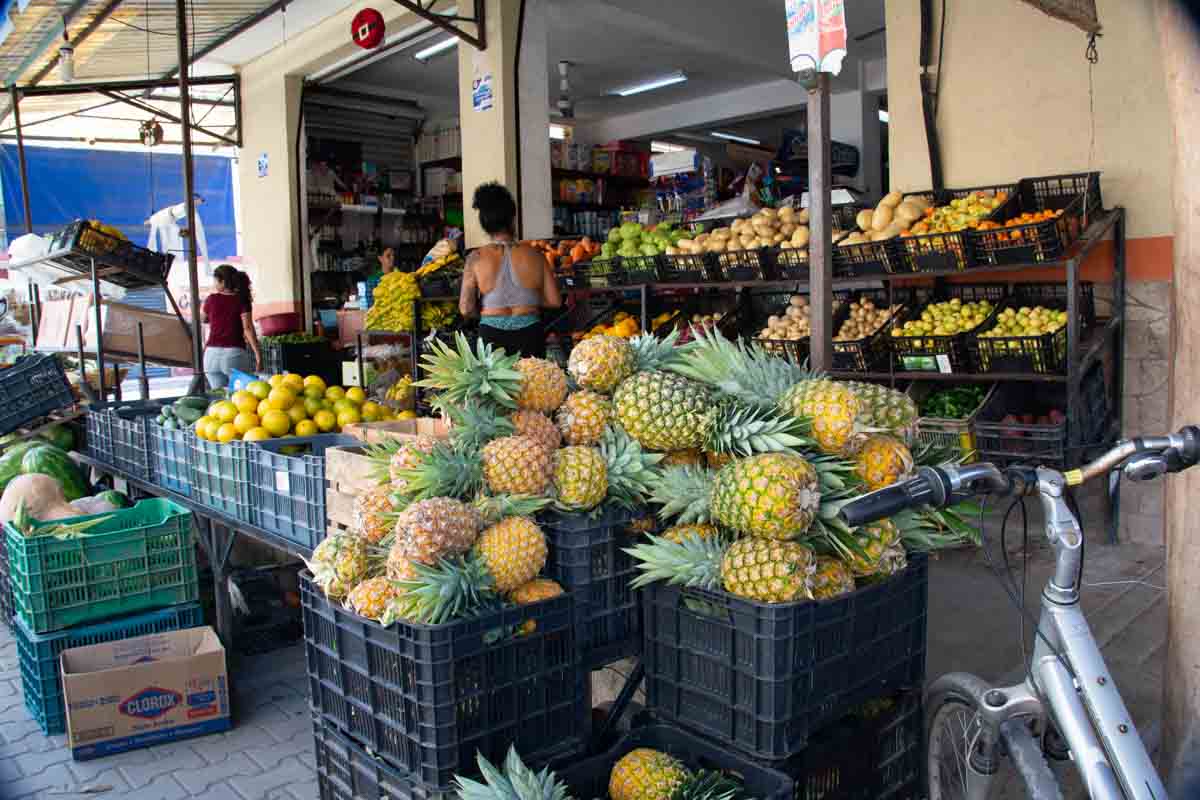 Try to live like a local
You'll find living like a local on the road will stretch your budget and broaden your experience.  Read the full article...