Wintering in the US Sun Belt. — Snowbirds enjoy winter across sunny southern US States
Snowbirds from the frigid northern US and Canada head for warmer weather come winter.  And their first choice is often the US Sun Belt.  
US sun belt states have been hosting winter visitors from frosty northern states and provinces for decades.  They're close by and offer mild weather with everything you've come to expect at home, and sometimes more.  
Your choices range from beach destinations on the Atlantic to the Pacific and along the Gulf coast. — Or desert locales, and even bayous.  And wherever you choose to winter, you can find great shopping, quality medical facilities, excellent restaurants, and plenty to do.  
Wintering in the sun belt allows folks to enjoy a healthy outdoor lifestyle.  The sunny, mild weather encourages walking, biking, and summer sports. — Without the fear of slippery, uncomfortably cold conditions.  
While the cost of living in the US is generally considered high, some southern regions are more affordable than higher-end touristy ones.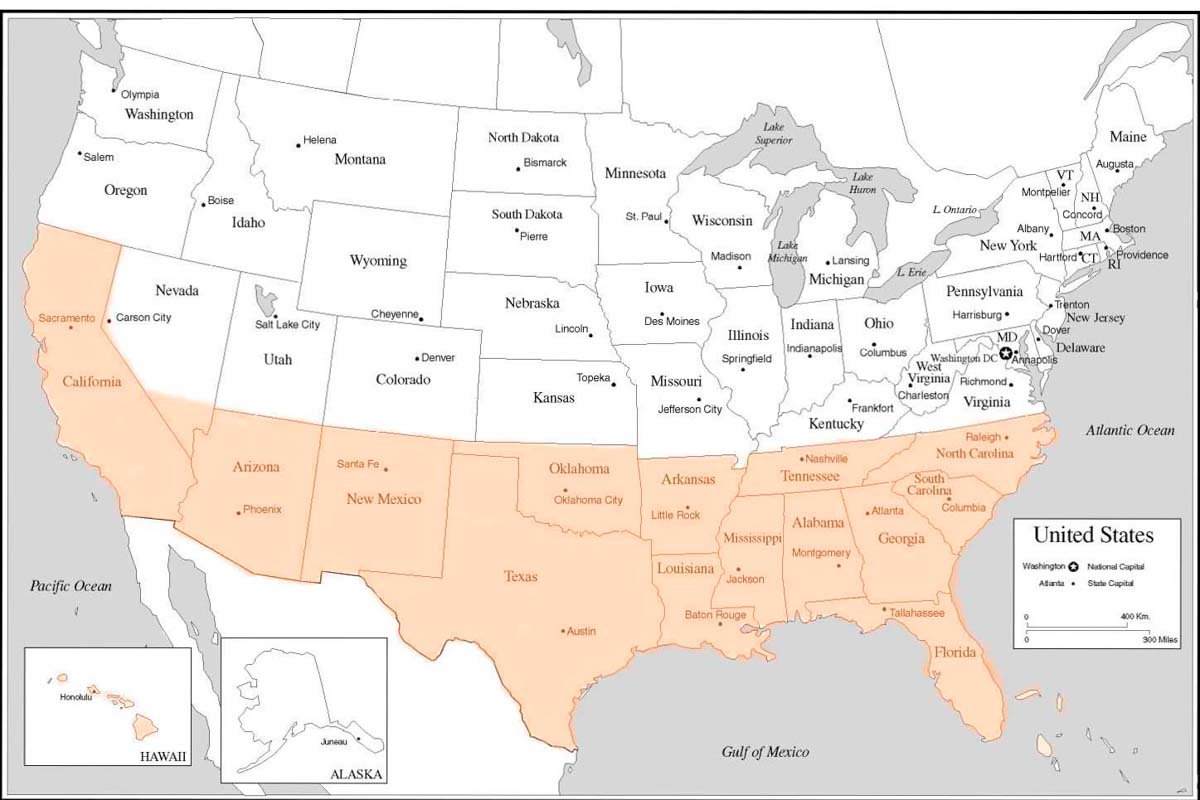 Map of US Sun Belt States
What is the Sun Belt?
What is the US Sunbelt, you ask?  The southern US region known as the Sun Belt lies below the 36th parallel or latitude.  The region includes Southern California and Nevada, Arizona, New Mexico, Texas, Oklahoma, Louisiana, Arkansas, Mississippi, Tennessee, Alabama, Florida, Georgia, South Carolina, and North Carolina.  

Average Winter Weather
Weather across the US Sun Belt usually is mild, with January average high temperatures ranging from the '70s in some southern areas to the '60s in some states and into the '50s in others.   
The warmest sea water over the winter months along the sun belt states is usually in the Atlantic Ocean near Miami.  Yuma is known as the sunniest place in the mainland US.  
Arizona
Arizona is a well-known state for northern snowbirds.  You have a wide range of choices, from the classy city suburbs of Phoenix to the vast RV and trailer parks of Yuma to desert camping around Quartzite.  You can pick your pleasure and accommodate your budget.   
Arizona has a mild dry climate over winter.  January's average weather in Phoenix is a high of 69 °F or 20 °C with an average low of 46 °F or 8 °C.    
Phoenix and its suburbs of Chandler, Gilbert, Sun City, Surprise, Mesa, Tempe, and Scottsdale are popular with snowbirds. — And nearby Apache Junction also caters to winter travelers.    
Yuma is a favorite snowbird haunt in southern Arizona, with miles of RV Parks and mobile home sites.  Historic Bisbee sits on the Mexican border in the Mule Mountains, and affordable Green Valley lies south of Tucson.  
Lake Havasu City, Sedona, and Bullhead City on the Colorado River south of Las Vegas offer snowbirds lots to do over winter.  
Florida 
Florida has a long-standing reputation of being the most popular and frequented US snowbird state.    
Known as the sunshine state, Florida has comfortable, warm temperatures all winter.  Orlando in January averages a high of 71 °F or 22 °C with an average low of 49 °F or 10 °C. 
Along with its warm sunny weather, Florida sports the most coastline of any state. — And the warmest ocean temps during the winter.  Snowbirds find winter havens on the eastern Atlantic coast, down the Keyes, along the western coast on the Gulf of Mexico… and throughout inland Florida.  
Some popular snowbird locations in Florida include St. Petersburg, Cocoa Beach, The Villages, Clearwater, Hollywood, Sarasota, Fort Lauderdale, and Hallandale, to name a few.
California
Southern California also attracts many snowbirds.  From Palm Springs to Napa to Santa Barbara and San Diego, snowbirds find welcome mild weather and many outdoor things to do.  
San Diego's average weather in January is a high of 65 °F or 49 °C with an average low of 18 °F or 9 °C.  While in El Centro, January highs average 71 °F or 22 °C.  
Much of California tends to be pricy, but you may find more affordability in out-of-the-way spots.  
Texas
Texas offers winter visitors beaches along the Gulf of Mexico with a Lone Star flavor. — And it's more affordable than many other snowbird destinations.  
Average weather in January on South Padre Island is a high of 68 °F or 20 °C with an average low of 54 °F or 12 °C.  
Laidback South Padre Island, Galveston, Corpus Christi, Harlingen, and McAllen lie in southern Texas and are some of that sun belt state's growing snowbird haunts.  
Nevada
From Las Vegas to Henderson to Boulder City and Laughlin, Southern Nevada attracts their loyal winter visitors.  Of course, there's plenty of entertainment and gambling, but there's also dry, sunny, mild weather with lots to enjoy outdoors.  
Average weather in January in Las Vegas is a high of 58 °F or 14 °C with an average low of 39 °F or 4 °C.  While in Laughlin, highs in January average 65 °F or 18 °C.
New Mexico
New Mexico is now on the snowbird radar.  With marvelous scenery, moderate weather, rich culture, and affordability to boot, it's no wonder. 
On average, Albuquerque weather in January is a high of 46 °F or 8 °C with an average low of 26 °F or -3 °C.    
Some popular snowbird locales are Alamogordo, Caballo, Las Cruces, and Truth or Consequences.  
Louisiana
Want to enjoy winter with a Cajun twist?  Louisiana has mild winter weather and is quite affordable. — And besides the great dining and nightlife, you can enjoy exploring the bayous.  
New Orleans average weather in January is a high of 62 °F or 17 °C with an average low of 45 °F or 7 °C. 
Locales to consider wintering are Lafayette, New Iberia, Abbeville, and Lake Charles. 
Mississippi
With plenty of southern charm, mild weather, and sandy beaches, Mississippi attracts snowbirds to its Gulf Coast.  
Average weather in January on Mississippi's Gulf Coast at Biloxi is a high of 6o °F or 16 °C with an average low of 43 °F or 6 °C.
Alabama
Alabama?  Yes, Alabama offers sandy beaches on the Gulf Coast with mild winter weather, affordability, and southern charm.  
Gulf Shores on Alabama's Gulf Coast average weather in January is a high of 60 °F or 16 °C with an average low of 39 °F or 4 °C.   
Gulf Coast destination options include Mobile, Gulf Shores, and Orange Beach.  
Georgia
Southern Georgia and its beaches on the Atlantic coast offer mild weather with southern charm.  
Savannah, Georgia's average weather in January is a high of 60 °F or 16 °C with an average low of 39 °F or 4 °C. 
Popular destinations for winter visitors are Savannah, St. Marys, Kingsland, Jekyll Island, and historic Brunswick.  
South Carolina 
South Carolina oozes with southern charm and hospitality.  Snowbirds find warm weather, a low cost of living, lovely beaches, and plenty of history and outdoors to explore.  
Charleston's average weather in January is a high of 59 °F or 15 °C with an average low of 37 °F or 3 °C. 
Winter visitors enjoy Charleston, Hilton Head Island, Murrells Inlet, Myrtle Beach, Beaufort, and Georgetown.  
North Carolina
North Carolina now attracts its own loyal following of northern visitors looking for a moderate climate, beaches, and affordability.    
Charlotte's average weather in January is a high of 50 °F or 10 °C with an average low of 29 °F or 1 °C.    
North Carolina's Outer Banks is a favored coastal region, and as winter is their off-season, more affordable rates are available. — And while winter weather can be coolish, spring comes early.  
The US Sun Belt offers mild winter weather with a wide variety of options, from beaches to deserts.  Wherever you choose to winter, you'll enjoy getting outdoors without snow and ice. — And what's not to love about that?
Related Topics: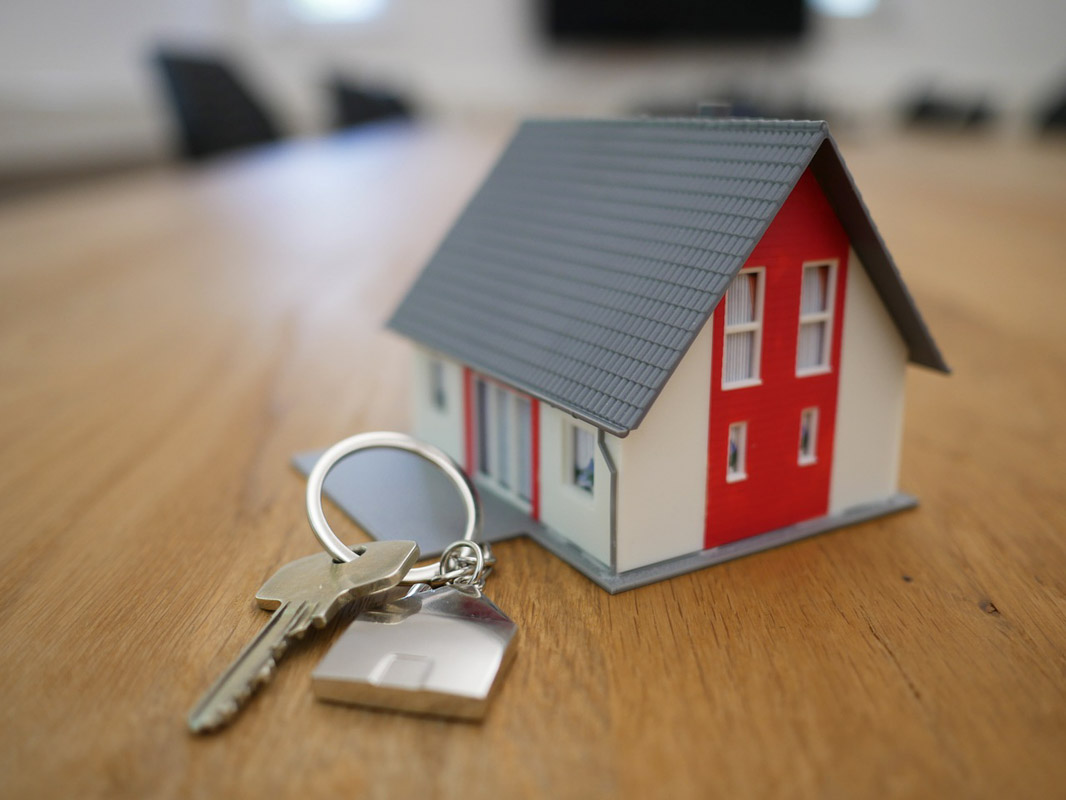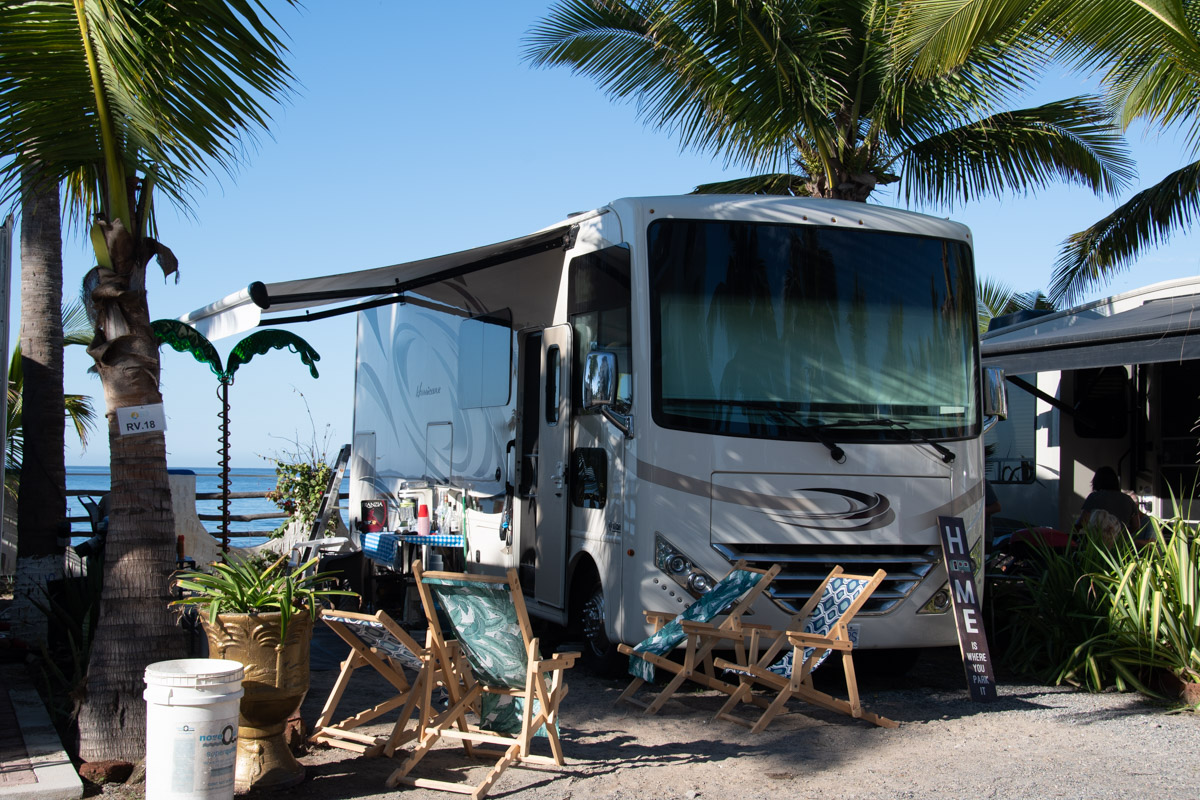 Consider full time RV living
Full time RV living can be a perfect choice for snowbirds on a shoestring.  Read the full article...