Thinking of Living in Belize? —

Here's a Few Things About Belize
| | |
| --- | --- |
| Language - | English |
| Population | 402,000 |
| Density - | 45 people/ sq mile |
| Size -  | 22,966 km2 (8,867 sq mi) |
| Capitol -  | Belmopan |
| Currency -  | Belize Dollar (BZD) |
| Flag | Belizian Flag |
Belize is only a two-hour flight from Florida, with direct flights from other US and Canadian cities.  Living in Belize is an excellent choice for many ex-pats and long-term visitors, with its easy accessibility and English use.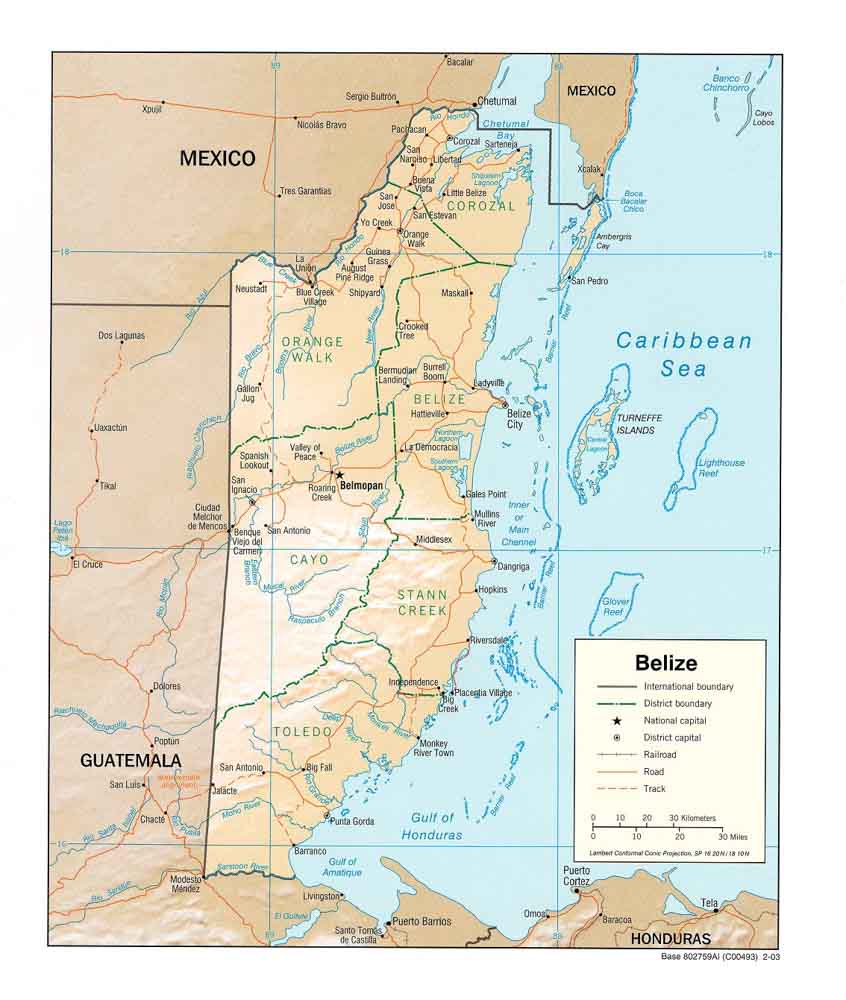 Map of Belize
Belize is a friendly little country.  It sits on the Caribbean Sea, bordered by Mexico to the north and Guatemala to the west and south.  It's only about 185 miles long and 65 miles wide.  And just offshore in the Caribbean lies the second largest barrier reef in the world.  

The islands on the north of Belize, Ambergris Caye, and quieter Caye Caulker are popular tourist hangouts.  They're accessible by air, or you can catch a ferry from Belize City to Caye Caulker.  
International flights fly into Belize City's airport.  From there, you can fly to other Belize destinations, catch a ferry to the Cayes, take a bus, or drive.    
About Belize  
Caribbean Vibe
Belize has a Caribbean vibe.  While English is the official language with schools and businesses mainly in English, it is eclectic and multicultural.  Also, widely spoken are Spanish and Creole.  
The Garifuna people are descendants of African slaves and recognized by UNESCO for their rich music and dance heritage.  They settled in Belize in the early 1830s.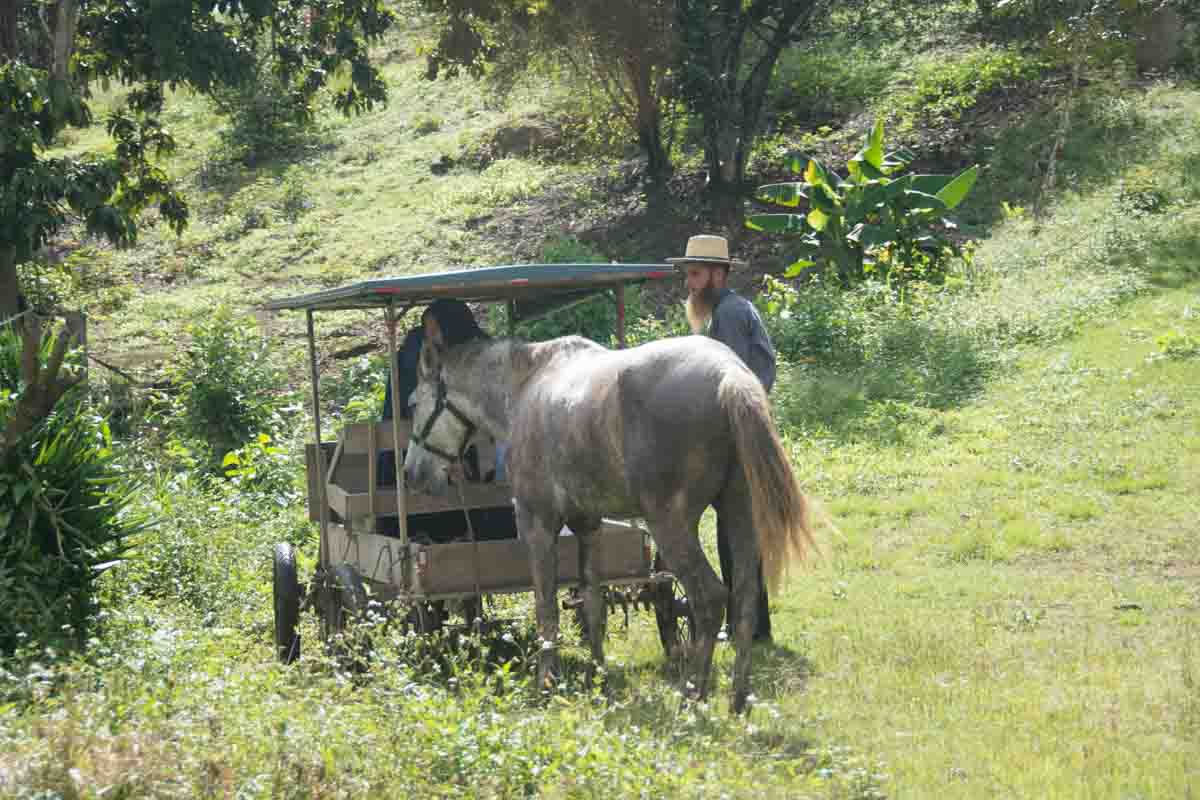 A Mennonite couple resting with their horse and buggy
Belize also has many Mennonite communities.  They range from very traditional villages to sizeable modern farm communities.  The Mennonites produce much of Belize's food supplies.  
Tropical rainforest covers over half of Belize.  With a lot of the country protected by reserves and parks. — In fact, almost 40% of Belize is protected.  Including the Belize Barrier Reef. — Now a UNESCO World Heritage site.  
This diversity, from culture to language to the tropical ecosystem, makes living in Belize fascinating. 

Districts  
Belize consists of six districts…   
Belize — Home of Belize City and the Philip Goldson International Airport.    
Cayo — Home of the capital city Belmopan, San Ignacio, livestock and poultry production… and the border crossing into Guatemala.  
Corozal — Home of Corozal Town sits on the Mexican border near Chetumal… with the land border crossing into Mexico.  
Orange Walk — Home of Orange Walk Town and the farming hub of Belize.  
Stann Creek — Home of Dangriga, Placencia, and Hopkins, sits on the Caribbean Sea with miles of sandy beaches.  
And Toledo — Home of Punta Gorda, forms the southern border of Belize with Guatemala.  
Belize Buses  
A colorful Belize Bus
Public transportation between villages in Belize is by bus.  And Belize's buses are old school buses imported from the US, colorfully painted, and put into service.  
These colorful relics run throughout Belize from village to village.  Schedules can be loose, particularly for the "chicken buses." — But express buses are more reliable.  
Belize Weather  
With a tropical climate, Belize has two seasons. — A rainy season and a dry season.  The rainy season starts in June, running through to November and into December.  Then the rains lessen, and December through to May is the drier season.  
Usually, May is the warmest, sunniest month, and the coolest is January.  March is typically the driest month, while September is the wettest.  Toledo in southern Belize is the rainiest region, with a shorter dry season.  
Winter brings the odd coolish day when a cold snap blows through.  But it's still always quite warm.   
Here's a chart with average high and low temperatures, rainfall, and humidity for January and February.  And check out more of Belize's monthly weather here.
| | | |
| --- | --- | --- |
| | Jan | Feb |
| Min Temp | 20 °C or 68 °F |  20 °C or 68 °F  |
| Max Temp | 27 °C or 81 °F | 27 °C or 81 °F  |
| Water Temp | 27 °C or 81 °F | 27 °C or 80 °F  |
| Precipitation |  6 inch  | 3 inch   |
| Humidity | 81 %  | 81 %  |
Things to do in Belize  
The beach in Placencia
You can stay well entertained when living in Belize. — From enjoying its Caribbean beaches to its dense jungle to its fascinating caves and ancient Mayan ruins.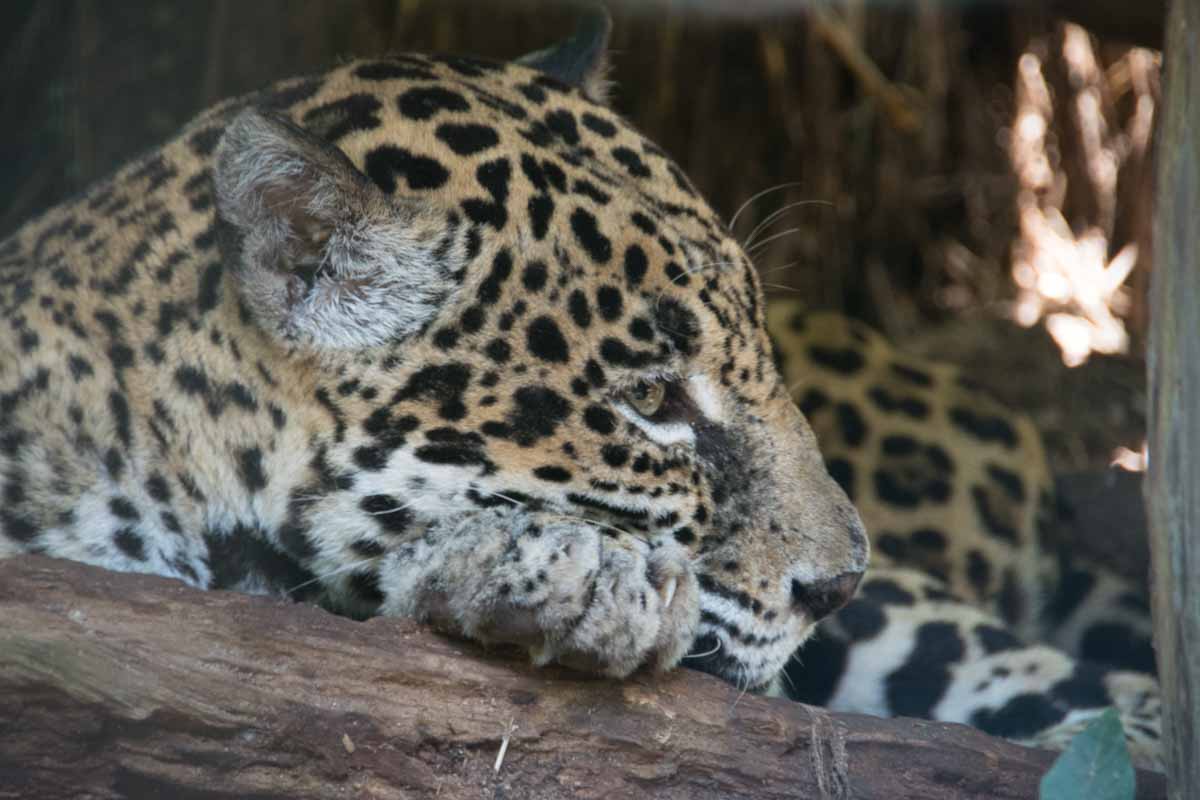 A Jaguar at Belize Zoo
Visit the Belize Zoo to see some elusive wildlife you're unlikely to bump into while out for a hike.  Jaguars call Belize home, with quite a healthy population.  And while you'll hear Howler Monkeys when you're near the jungle, it's not likely you'll get close to one in the wild.  

Explore the ATM or Actun Tunichil Muknal Cave near San Ignacio for a memorable experience. — A cave filled with ancient Mayan relics, left as they were by the Mayans.  And ATM's ranked by National Geographic as the number one sacred cave in the world.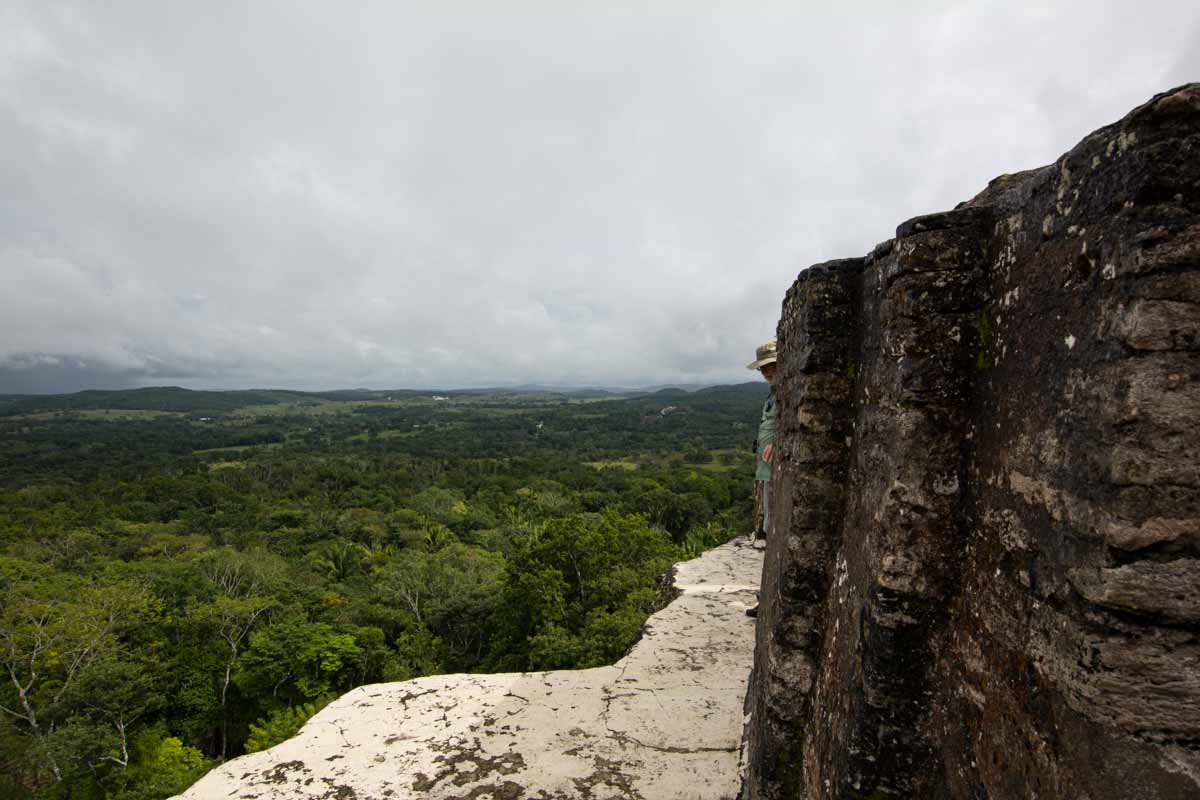 Peering from high atop a Mayan Pyramid
Climb a Mayan pyramid… or simply walk throughout the ancient site.    
Head out to Belize's Barrier Reef to snorkel or dive for the day.  And take a walk in the tropical rainforest at one of Belize's many parks or reserves.   
Placencia, Belize 
Placencia is a small village on a sandy peninsula on the Caribbean coast in Belize.  It is a favorite with ex-pats living in Belize and vacationers alike.    
The laidback village is south of the Placencia airstrip… with beach bars, restaurants, hotels, grocery stores, banks, and shops.  Just off the beachfront runs a boardwalk.  So you can stroll by little beachfront cabanas, beach bars, and shops.  
On the peninsula north of the airstrip are higher-end homes, resorts, and the Garifuna village of Seine Bight.  
Hopkins, Belize
Hopkins is a quiet little seaside Garifuna village just south of Dangriga.  It sits on a sandy beach, with beach bars, cabanas, grocery stores, and restaurants.  
South of the village down Sittee River Road is the marina and a subdivision with high-end homes and a few restaurants.  
Enjoy the Garifuna culture.  Several restaurants serve Garifuna food.  And drumming is also often on the menu.
San Ignacio
San Ignacio is a small inland town in the Cayo District near the Guatemalan border. —Sitting on the Macal River with its sister town Santa Elena.  It is a popular area with hotels, guest houses, stores, restaurants, and cafes.  And is a staging point for traveling into Guatemala and to Tikal.  
There're lots of things to explore here. — From Mayan ruins to extensive caves to local markets.  
The Cayo area is also home to many of the ex-pats living in Belize as it has a lower cost of living than the islands or seaside villages.  And Cayo produces most of the livestock, poultry, and grain for Belize.  
Ambergris Caye 
Ambergris Caye is the largest of the caye islands on the north coast of Belize.  It's 25 miles long with about 20,000 residents. — Including many ex-pats.  It's a busy touristy place, making it pricey here.    
San Pedro Town has plenty of restaurants, bars, and shops… with golf carts, bicycles, and vehicles too.  Tourism is the primary industry on the island, with easy access to the Belize Barrier Reef.  
There are frequent flights into Ambergris from Belize City, Corozal Town, and Caye Caulker. — And ferry service also.  
Caye Caulker  
Caye Caulker is known as the quieter of the Cayes, with only about 2,000 residents. — But it's still a popular tourist hangout, but a little more affordable than Ambergris.  
Golf carts rule as transportation here, with no vehicles.  You can reach Caye Caulker by air or a ferry from Belize City or Ambergris.  
Cost of Living in Belize
While not the cheapest country to live in, most ex-pats or long-term visitors find their dollar stretches with simple living.  And Belize lends itself to a simple lifestyle.    
Outside of Belize City or Belmopan, you'll find mainly basic items in the grocery stores.  And locally grown seasonal produce in the markets.  
Imported goods in Belize are pricy.  Belize collects high duties on its imports as its primary source of revenue.  If you shop for imported brands, you'll find the prices high and selection limited.  
Healthcare
While Healthcare in Belize is affordable, it is not of the same high quality as Mexico, the US, or Canada.  There are both public and private hospitals and clinics available. 
Pharmacies usually are well stocked, and often don't require a prescription. 
You'll find adequate care for most basic issues in local hospitals.  Belize City has the highest level of medical care, with smaller hospitals in Belmopan and Dangriga. — And clinics throughout Belize. 
For more serious complaints, expats and folks living in Belize often travel out of Belize, to Mexico, Guatemala, or back to the US or Canada. 
Retiring in Belize
Belize's retirement program, the Qualified Retired Persons program (QRP), works well for some retirees.  You must bring $2,000 monthly into Belize, or $24,000 annually, and prove it.  But you can import your vehicle and household items duty-free.   
Duties in Belize significantly impact vehicles.  Particularly SUV's which can be taxed up to 70% of their blue book value!  
Or use the Tourist Card you get when entering Belize, and then extend it while you're there.  Many long-term visitors living in Belize find this simple method works well for them.  
American and Canadian citizens and those from the European Union do not require a visa to enter Belize.  
As a former British colony, which gained independence in 1981, — Belize uses British Common Law.  So foreigners can own property and real estate.  
Belize has much to offer retirees living there or long-term visitors. — From its warm tropical climate to its easy accessibility to its use of English as an official language.  It's a tropical paradise with a surprisingly low population.   
More on Belize...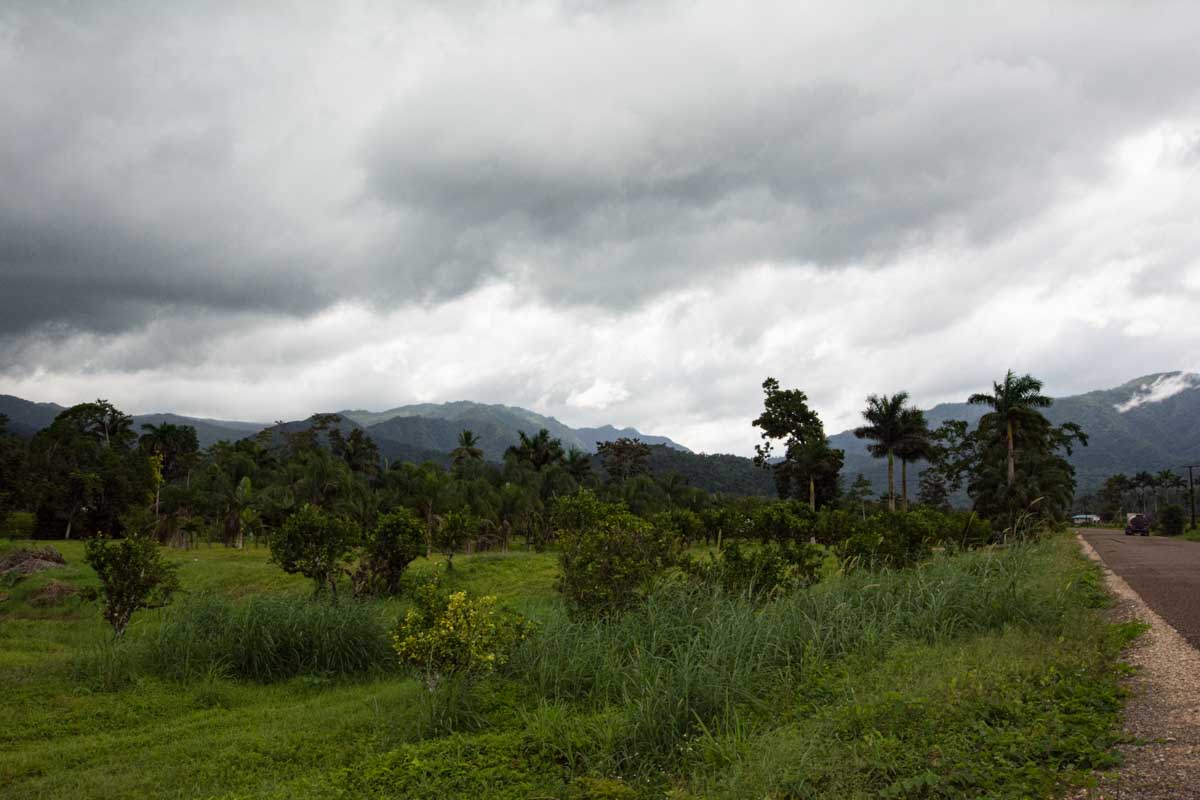 Belize's Monthly Weather
Here are charts with average monthly weather in Belize.  Read full article...