RV Types —

For Your Snowbird Lifestyle
With the sheer number of RVs available, different RV types, and so many sizes and styles, choosing an RV can be overwhelming and confusing to newbies and even seasoned RVers.
But luckily, there's plenty of variety between snowbirds and their different lifestyles. — So, most folks can find an RV that suits them and their budget for their snowbird adventures.
One typical necessity for most snowbirds is a workable kitchen. And usually, the number of people the RV can sleep is less important than a comfortable living quarters for a couple of folks.
Of course, a decent amount of storage space is also a plus for a snowbird's long-term travels.
Many RV types and sizes are available
RV Types
RV types consist of two main categories… motorized and towable. — And each category has a wide variety of sizes and configurations to choose from.
Motorized RVs have an engine. These RVs include Class A, Class B, and Class C motorhomes. One advantage of motorhomes is folks have access to their kitchens and bathrooms without having to leave their tow vehicle.
Towable RVs, or trailers, are pulled by a tow vehicle. Hitch trailers are attached to the vehicle's rear bumper. And a 5th Wheel has the hitch mounted in the truck's box over its rear axles.
The size and weight of the trailer will be the deciding factor in the type, GVW, and size you need for a tow vehicle.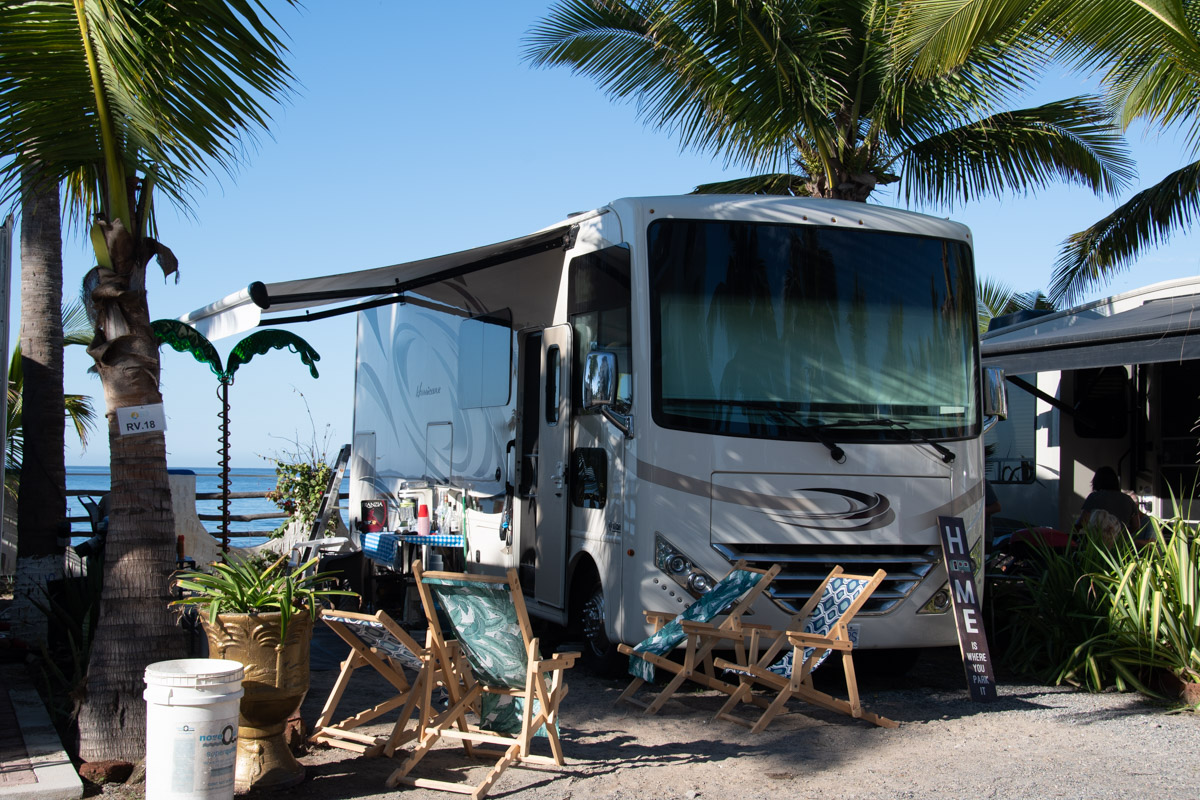 Class A Motorhome on a beach in Mexico
Class A Motorhomes
Class A Motorhomes or coaches tend to be the largest and most luxurious RV types. They range from 40-plus footers to smaller motorhomes.
They're often referred to as diesel pushers, as the diesel engine is in the rear of the motorhome under the bed — And they also sport a large front window. But some do come with gas engines.
These Class A's also have ample storage bins as one of their features. Class A and Class C motorhomes often tow a vehicle for a runabout when parked.
Our old MCI Bus
Class A Coaches include buses. — Both new buses intended for the RV market and old converted buses such as decommissioned highway passenger buses, metro buses, and old school buses… known as schoolies.
As you would expect, a highway bus has a superior suspension system and lots of storage, unlike city buses. Converted buses have a loyal following, and many consider them in a class of their own.
Class B - Camper Van on a beach in Mexico
Class B – Camper Vans
Camper vans range from little vintage Westfalia Volkswagen vans to larger camperized vans. These small vans are not RV types frequently used by most snowbirds, but you will find them exploring out-of-the-way locations such as the Baja, mainland Mexican beaches, and colonial cities.
These adventurous snowbirds relish these RV's simplicity and maneuverability. — And make use of the outdoors for elbow room, as there's not much to be found in a small van.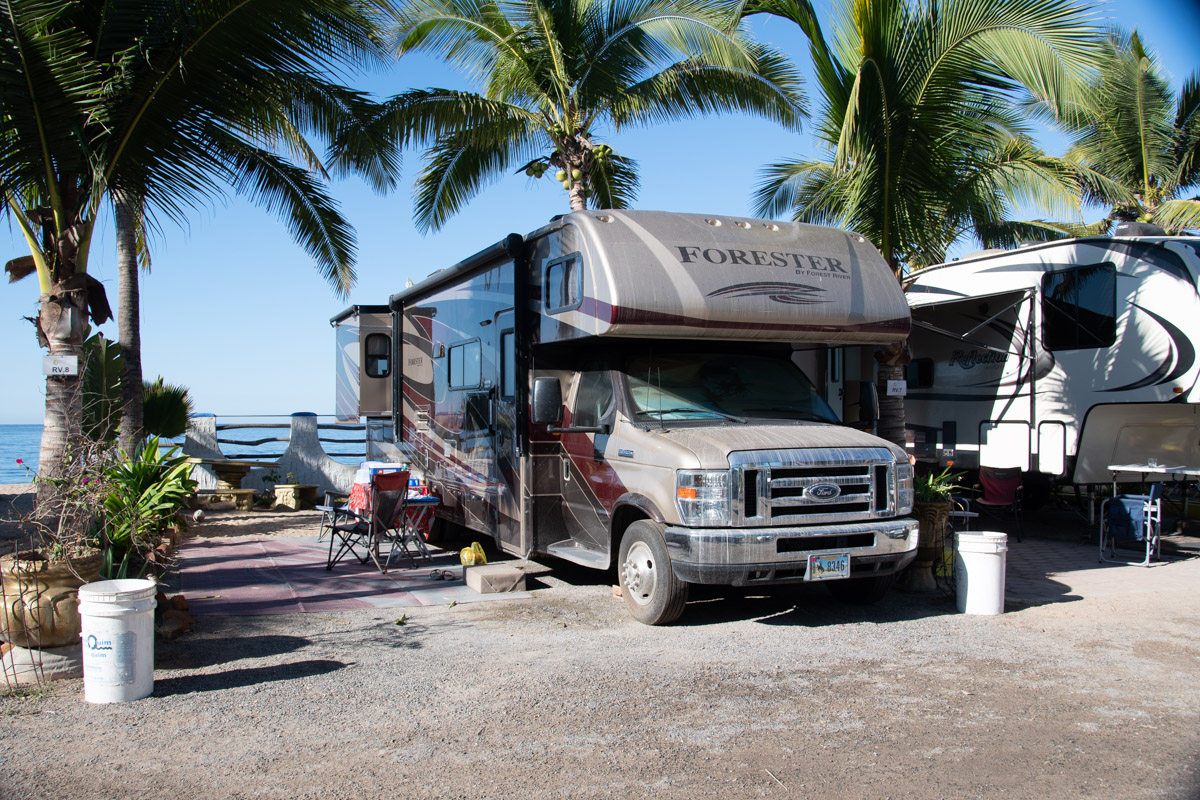 Class C - Cab-over Motorhome in a Mexican RV Park
Class C – Cab-over Motorhome
The cab-over design distinguishes this RV type, with a bed or storage area over the cab. These mid-range RVs are usually more affordable than Class A's and roomier than vans.
You'll find them with gas or diesel engines. — And the engine is in the front of the vehicle.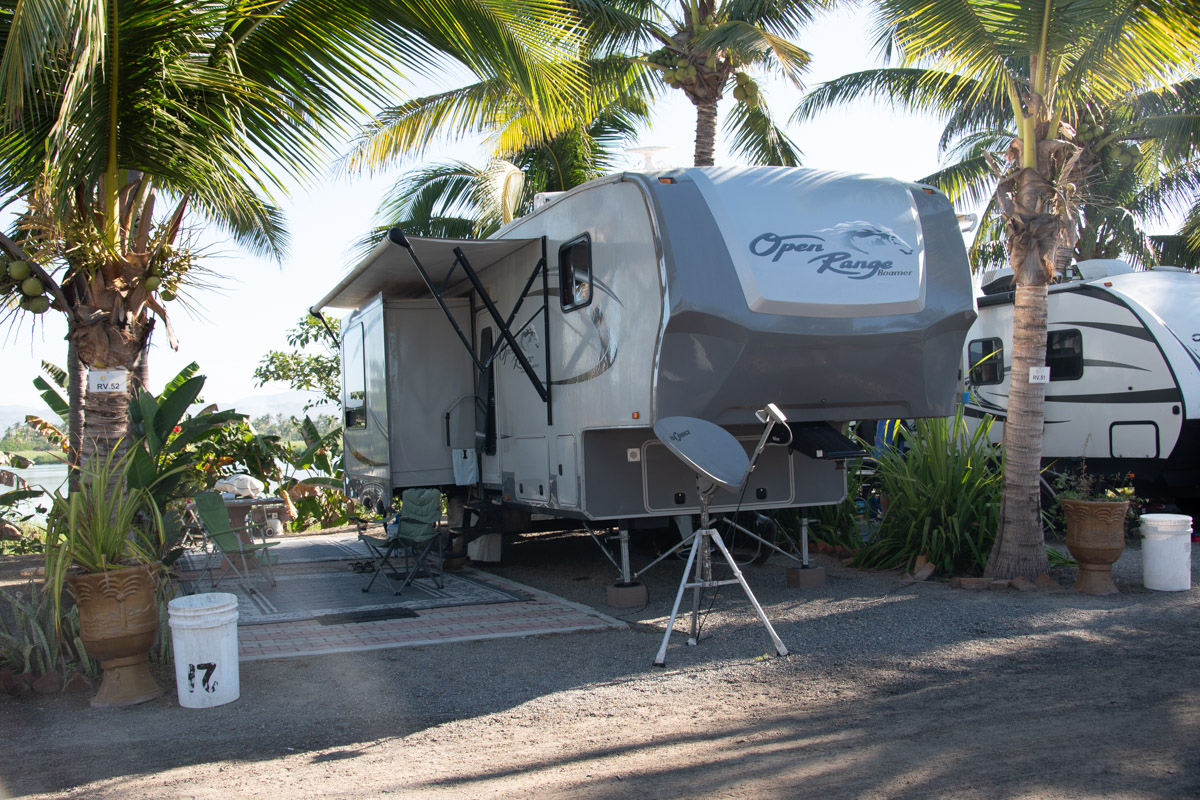 5th Wheel trailer in a Mexican RV Park
5th Wheel Trailers
A 5th Wheel's hitch sits over the truck's rear wheels. So, your vehicle packs part of the trailer's weight in its pickup box rather than on its bumper, adding stability to the towing vehicle. But these trailers are often high and can catch more wind than a lower bumper pull.
These trailers track differently also. When turning, the 5th wheel trailer doesn't follow the tow vehicle's tracks as closely as a hitch trailer.
But on the plus side, 5th wheels are often configured with well-laid-out living quarters and good storage space. They have stairs to the upper area over the hitch, and most have the bedroom in the front.
Airstream Travel Trailer in Mexico
Travel Trailers
Travel trailers make up the largest group of RV types. They come in large, mid-size, and downright tiny. They're known as bumper pull trailers, and as the size and weight of the trailer increases, you'll need hitch stabilizers and a decent-sized tow vehicle for safe towing.
Classic airstreams are included in this class, as are tiny Bolers.
Many of these trailers come with family-friendly features, such as bunk models and tables that convert to a bed. A snowbird couple may have to search for one with features that are comfortable for them.
One plus of these trailers is that your tow vehicle has room to store and haul some of your extra things.

Toy Hauler in an RV Park
Toy Haulers
Toy haulers have a rear compartment with a folding tailgate where you can haul ATVs, motorcycles, or other toys. These are often big 5th wheels, but also some trailers.
When parked, the rear garage can convert into an extension of your living quarters, often as a spare room, porch, or patio.

Truck Camper on a beach in Mexico
Truck Campers
While sports enthusiasts, such as fishermen, commonly use truck campers, Some snowbirds venturing on extended trips, particularly into Mexico, also use them.
The small living space is made up for by the access to outdoor living in a warm climate.
New or Used?
New RVs depreciate when they leave the lot, just like vehicles. While you may love the new features, looking at the used market will be more affordable if you're a snowbird on a shoestring.
When hunting for a used RV, think about your must-have features. — But most importantly, look for a quality-built RV. Age is less important than quality… you'll find quality RVs age gracefully.
While it may go without saying… watch for axels and tires rated for the GVW of the trailer.
Whether new or used, don't pair too light a vehicle with too heavy a trailer.
And always consider your driving ability. You shouldn't go from driving a little car to thinking you'll be just fine herding a big outfit down the road.
You may yearn for a large, spacious RV when parked for the winter. — But when you're on the road, a small RV type will be on your wish list.
Living in a small RV takes a special commitment to simplicity. So many snowbirds opt for a mid-size unit. Look for an RV that ticks most of your must-have boxes with an eye to not breaking the bank. — And enjoy your warm winter adventures exploring the sunny south.
Related Topics:
Consider full time RV living
Full time RV living can be a perfect choice for snowbirds on a shoestring.  Read the full article...