Traveling with Pets? 

Get Ready for Your Trip — And Enjoy Your Travels
Our little mutt enjoying a beach in Mexico
Traveling with pets takes a little planning but is fun and rewarding.  Many snowbirds bring their pet along when they head south for the winter.
Pets are a big part of our lives, and while leaving them home for short trips and vacations is doable, extended travels are much more fun taken with the "whole family."
Getting Ready to Travel
Check the requirements you'll need to meet for bringing your pet along.  Make air travel reservations well in advance with your pet added to your ticket if you're flying.
Find a pet carrier your pet is comfortable in if you'll need one. — And get them used to it.  Lots of positive reinforcement helps here. — Starting with short times inside and working up.  Soft-sided but well-built carriers allow a little leeway for pushing under different airline seats.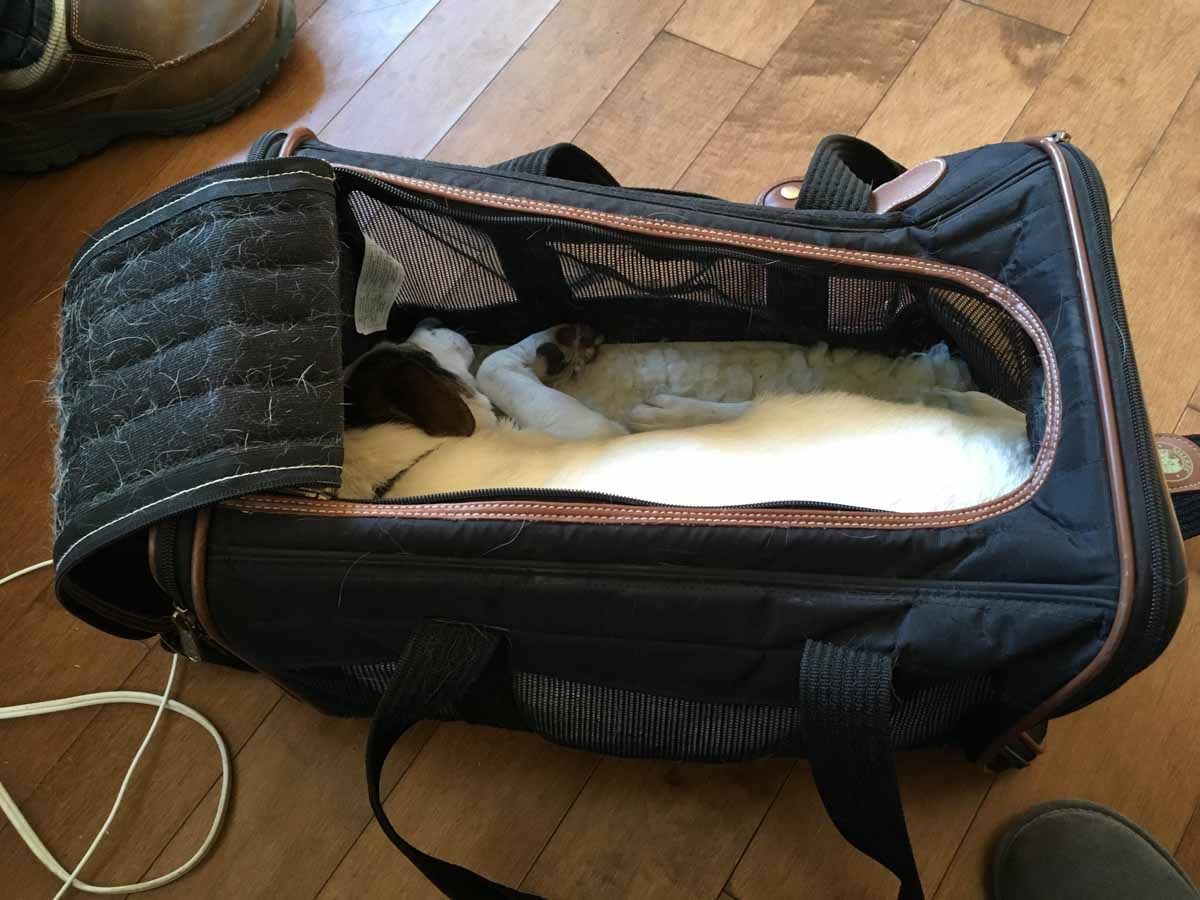 Our little mutt napping in her "Sherpa" pet carrier.
Book your pet into your vet for a current health certificate and any vaccinations, rabies shots, or wormer needed.  Some southern jurisdictions may have different parasites and concerns than your home locale, so be sure to discuss your travel plans with your vet.
When traveling with pets, pack their health certificate, current immunization records, and other medical records on your trip.  If required for your pet, pick up medications if it has a long-term condition and bring enough of them too.  
Road Trips with Pets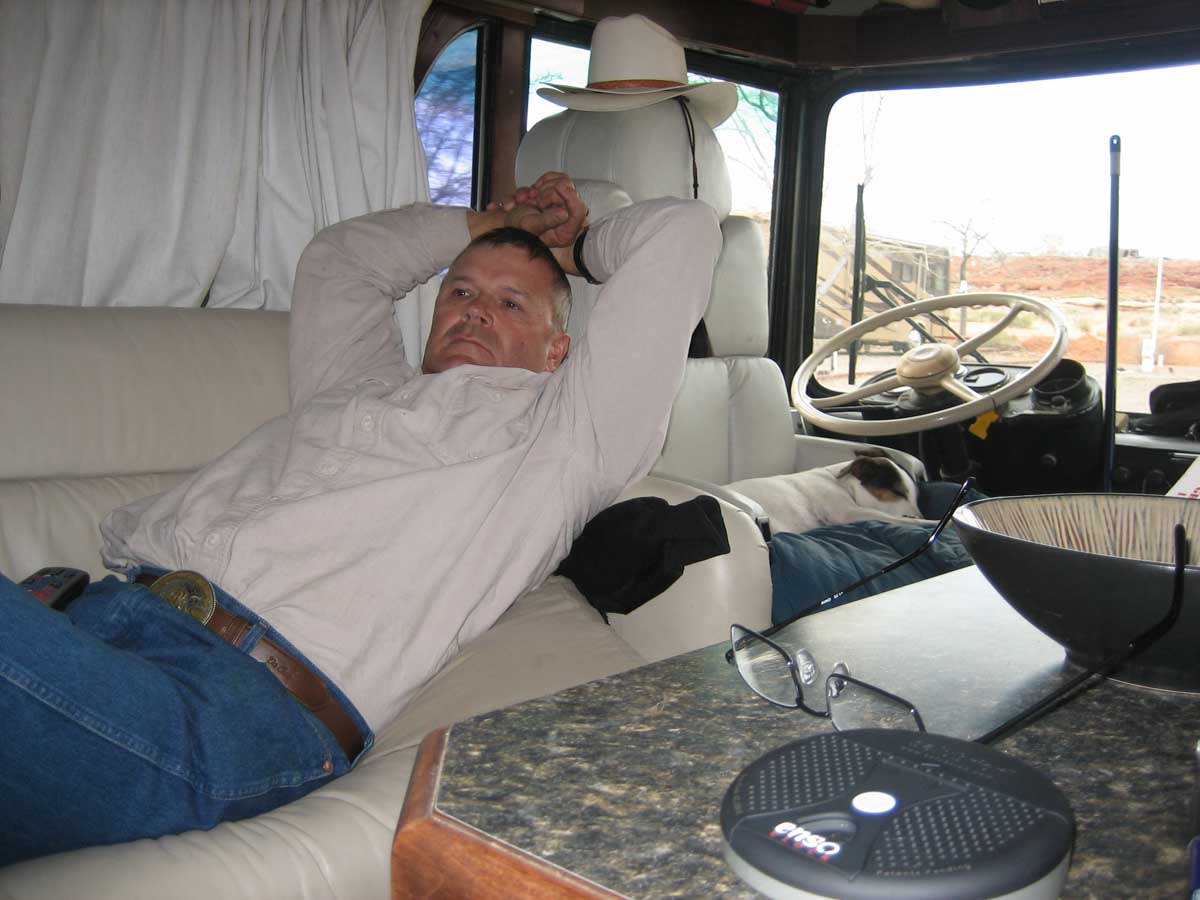 Lee and his little mutt chilling in the Bus
Bringing your pet along in your RV makes life on the road easy in many ways.  It's like having their home away from home.  And most RV's have fans or air conditioning making them climate-controlled when parked. A total convenience when traveling with pets.
However, taking a long road trip in a vehicle usually requires overnighting and finding pet-friendly accommodations along the way. — And you must be cautious of not leaving pets parked in a hot vehicle.
Look for shady parking spots, leave your windows open a crack, and make short pit stops. — Or if your vehicle allows it, leave it locked and running with the air conditioner on.
Drive with plenty of water and food for your pooch or kitty.  Dogs enjoy walks at rest stops along the way, but you'll probably want to keep cats locked in your vehicle when you stop.
Traveling with Pets by Air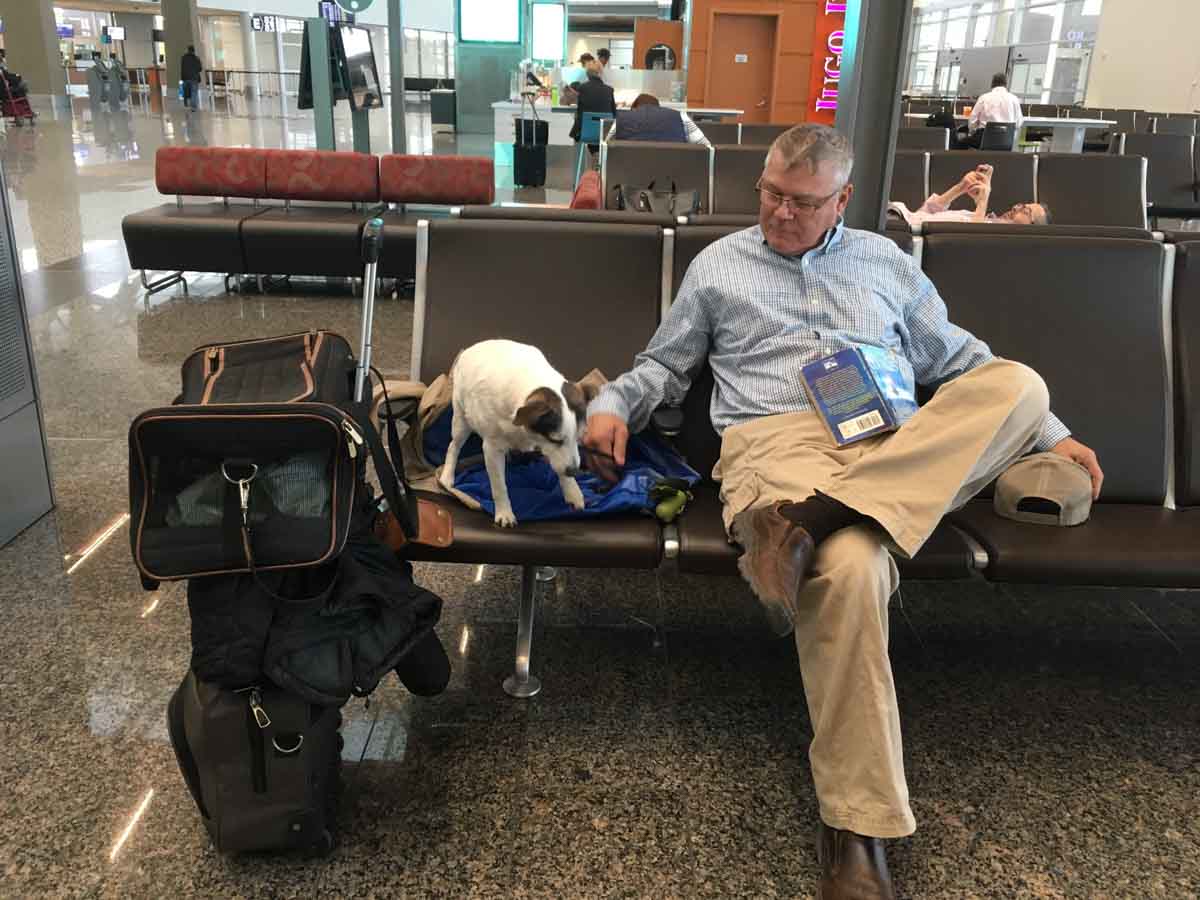 Our little mutt and Lee waiting at the airport
Each airline has a pet policy.  Small dogs and cats are allowed to ride in the cabin in a pet carrier under your seat by most airlines. — But in limited numbers.  So book your seats early, as pet spaces fill up quickly.
Some airlines won't take pets in the aircraft's cabin at all… Others allow only a couple onboard, while Alaska Airlines takes up to 5 pets in the cabin.  Check your airline options and plan your trip accordingly.
Your pet must stay in its carrier at all times during the flight.  You can usually let them stretch their legs a little in the airport, but lock your dog in its pet carrier in the international luggage pick-up and customs areas where working dogs are patrolling.
Your pet carrier and leash will go through the luggage scanner with your other carry-on luggage, and you will be waved through the walk-through scanner with your pet in your arms.
Pack a little bag of your pet food for the trip and pick up some water after checking through security.  However, don't overfeed or water your pet before a long flight.
You can try to take an unopened bag of your pet's favorite food in your luggage. — But customs might take it away.
Some airports have a pet-friendly patio or a room to walk your pet.  If you have connecting flights, check ahead for where you can take your pooch for a quick walk between flights.
Crossing International Borders
If your trip takes you across international borders, check out the up-to-date restrictions and rules for each border crossing well ahead of leaving. — And make suitable arrangements to be compliant.
Firstly, your pet should be healthy… look healthy… and groomed too.
Entering the US with your dog requires a current rabies vaccination certificate.  If you're traveling with pets through the US to Mexico, your rabies certificate still needs to be valid on your return crossing back into the US.
Mexico's changed its requirement for a current health certificate in 2019.  Now your pooch or kitty will be inspected at the border by an agent.  So bring your pets' current, up-to-date vaccine records and health reports from your veterinarian.
Mexico considers cats and dogs as pets and allows two pets per person. However, birds or other critters have different regulations.
Vaccine certificates need to include the date administered, how long the vaccine is valid, the product's name and lot number, and the owner's name and address, with your veterinarian's letterhead or official form.
Lee and his little mutt kayaking in Mexico
Accommodations
If you own a place or are traveling with an RV, pet-friendly accommodations aren't a big issue.  But looking for accommodations on the road can be tricky otherwise.
Luckily more and more hotels, B&B's, and rental suites recognize the need for pet-friendly rooms. In addition, hotel websites and booking sites list their pet policies, rules, and fees online.
With an app such as Kayak, you can check out pet-friendly accommodations by searching as you travel. — Or check an area out before traveling. Of course, you can also check prices and other amenities you'd like.  And make reservations too.
Remember, even pet-friendly hotels usually only offer a few pet rooms, which can fill up quickly.  So booking ahead when traveling with pets is always a good idea.
Hotels in Mexican cities usually aren't pet-friendly.  But small towns and villages are often much more flexible.  And your little pooch can sometimes even sit in a restaurant or on a patio with you.
Polite pets with responsible owners are a pleasure to be around and welcomed back.  So please pick up after your pet and keep it from barking incessantly or misbehaving. — And encourage pet-friendly facilities to continue expanding.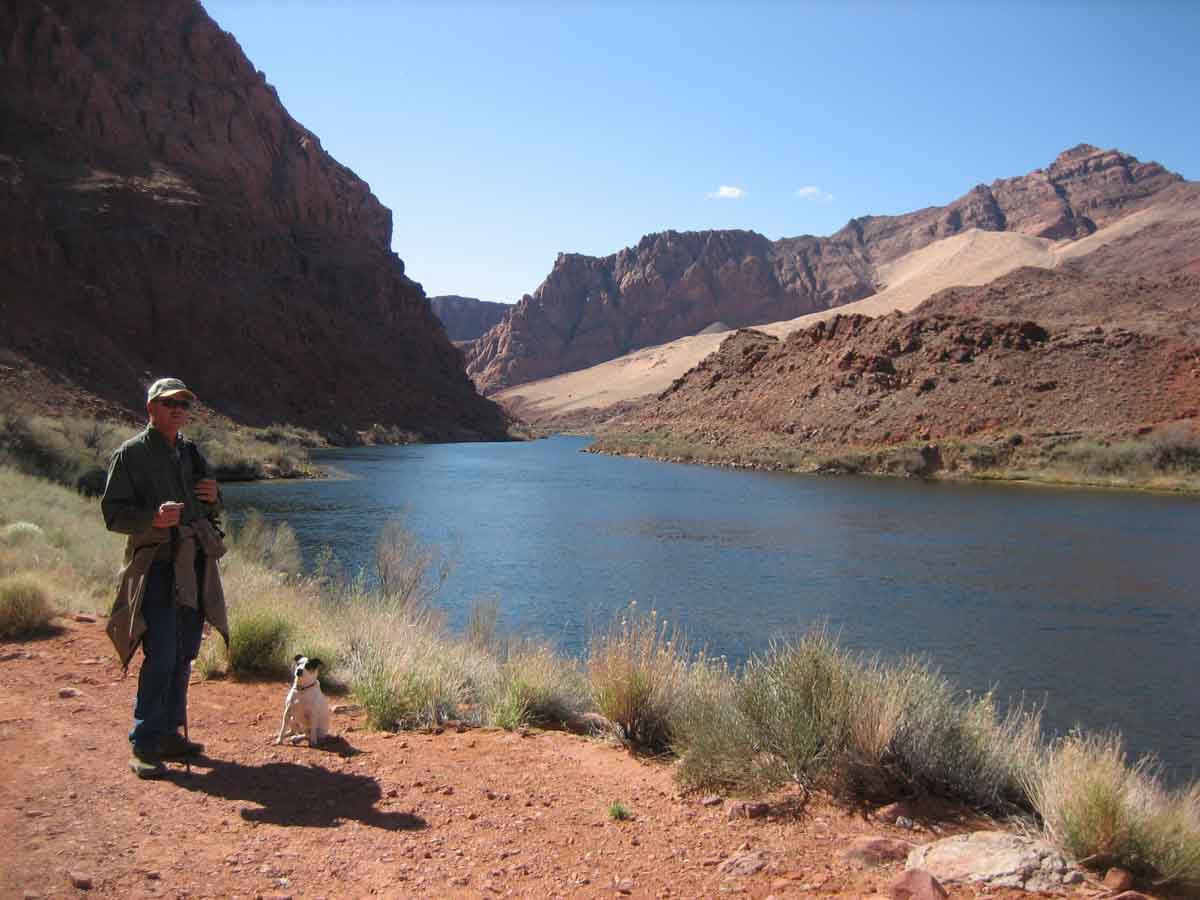 Lee and his little mutt walking by the Colorado River
Your little mutt or kitty loves being with you as much as you love being with them.   Getting outdoors for daily walks with your dog is healthy for them and you.
So enjoy traveling with your pet. — And happy trails!