Thinking of Living in Panama? —
Learn About Panama with Facts, Maps, Weather and More.
| | |
| --- | --- |
| Language - | Spanish |
| Population - | 4,356,000 |
| Density - | 149 people/ sq mile  |
| Capitol - | Panama City  |
| Currency – | Balboa (PAB) and US dollar (USD) |
| Size - |  75,417 km2 (29,119 sq mi)  |
| Flag - | Panamanian Flag |
Are you thinking of living in Panama? — Panama has many pluses, from its year-round warm tropical climate to its easy accessibility to its first-rate retirement plans and hurricane-proof setting.
About Panama 
Panama links North and Central America with South America.  This narrow isthmus sits between Costa Rica and Columbia, running east to west. — With the Caribbean Sea to the north and the Pacific Ocean to the south.  
Panama is known as the Hub of the Americas, connecting air, sea, and land travelers with the US, Canada, Mexico, Central America, South America, and Europe. 

Map of Panama
The Tocumen International Airport at Panama City is only a three-hour flight from Florida.  And an international arrival destination from cities throughout the US, Canada, and Europe.  Panama has a decidedly international vibe, attracting visitors and ex-pats from around the world.  

The Pan-American Highway runs through Panama to the Darien Gap. — A swampy jungle between Panama and Columbia, where the highway takes off again.  The Pan Am Highway is known as the longest highway in the world, running from Alaska to the tip of South America.  
Panama has a strong economy, between the lucrative Panama Canal, a world-class financial banking sector, and vibrant tourism industry.  
Geographical diversity from the Caribbean coast to the Pacific Ocean… with tropical rainforests, grassy savanna's, and long sandy beaches attracts long-term visitors and ex-pats living in Panama.  
Average Monthly Weather
Panama has a tropical climate with a rainy season and a dry season.  The rainy season starts in May and runs through to November and into December.  Then the rains lessen, and late December through to mid-April is the drier season.  
The Caribbean coast is the rainiest region, with the Pacific coastal areas less so. — And the Azuero Peninsula the driest part.  
May is usually the warmest month of the year, while October and November are the wettest.  
Year-round temperate weather is enjoyed by those living in Panama.  
Here's a chart with average high and low temperatures, rainfall, and humidity for January and February.     
| | | |
| --- | --- | --- |
| | Jan | Feb |
| Min Temp | 20 °C or 68 °F |  20 °C or 68 °F  |
| Max Temp | 27 °C or 81 °F | 27 °C or 81 °F  |
| Water Temp | 27 °C or 81 °F | 27 °C or 80 °F  |
| Precipitation |  6 inch  | 3 inch   |
| Humidity | 81 %  | 81 %  |
Panama City
Panama City
If city life is for you, Panama City has a lot to offer, with its first-world infrastructure and cosmopolitan city life.  Its skyscrapers line the oceanfront while ships lay at anchor in its busy harbor, waiting for their scheduled trip through the Panama Canal.  
Panama City is a world-respected financial hub, with over 1,8 million people in its metropolitan area. Not surprisingly, living in Panama City isn't as inexpensive as smaller rural towns.   
Pedasi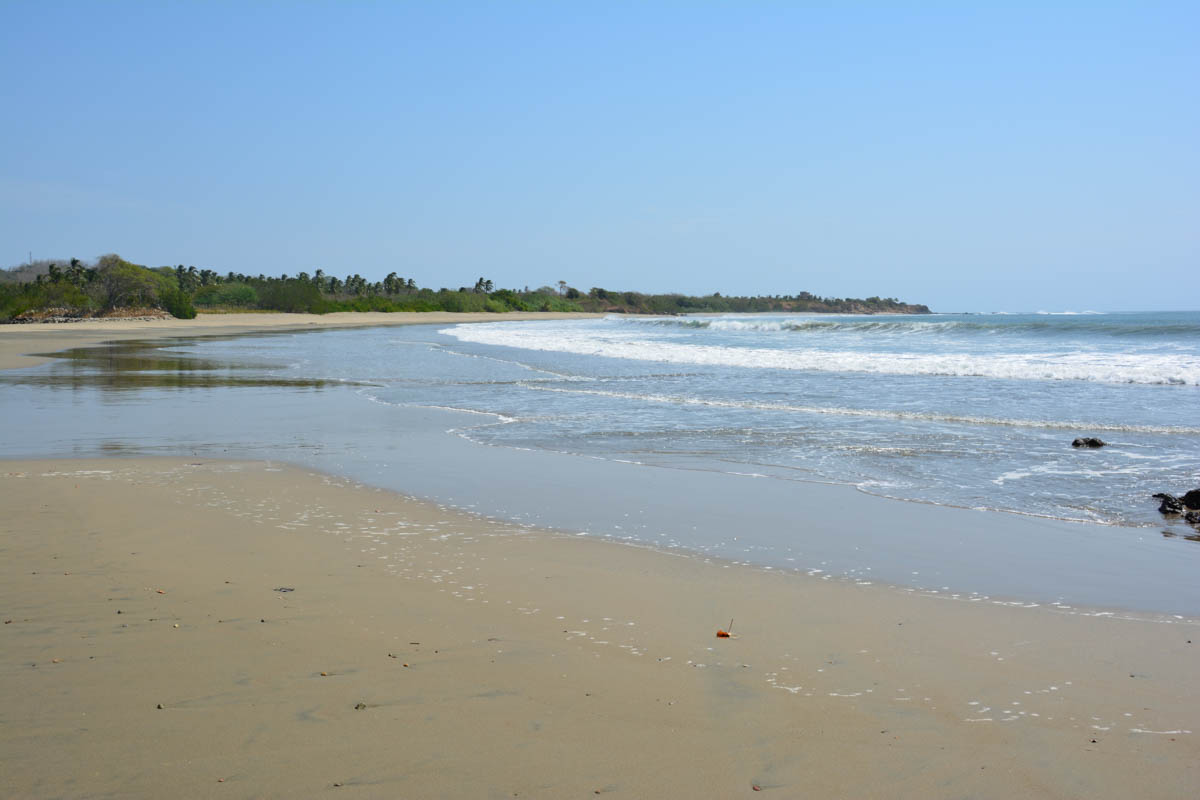 A Beach near Pedasi
Pedasi is a laidback little fishing village at the tip of the Azuero Peninsula on the Pacific, with a friendly ex-pat community.    
You can enjoy long walks on local near-empty beaches or go fishing.  Life here is simple, with grocery stores in town, shops, hotels, and a couple of bakeries.  Locals liken Pedasi to Mexico in the '50s.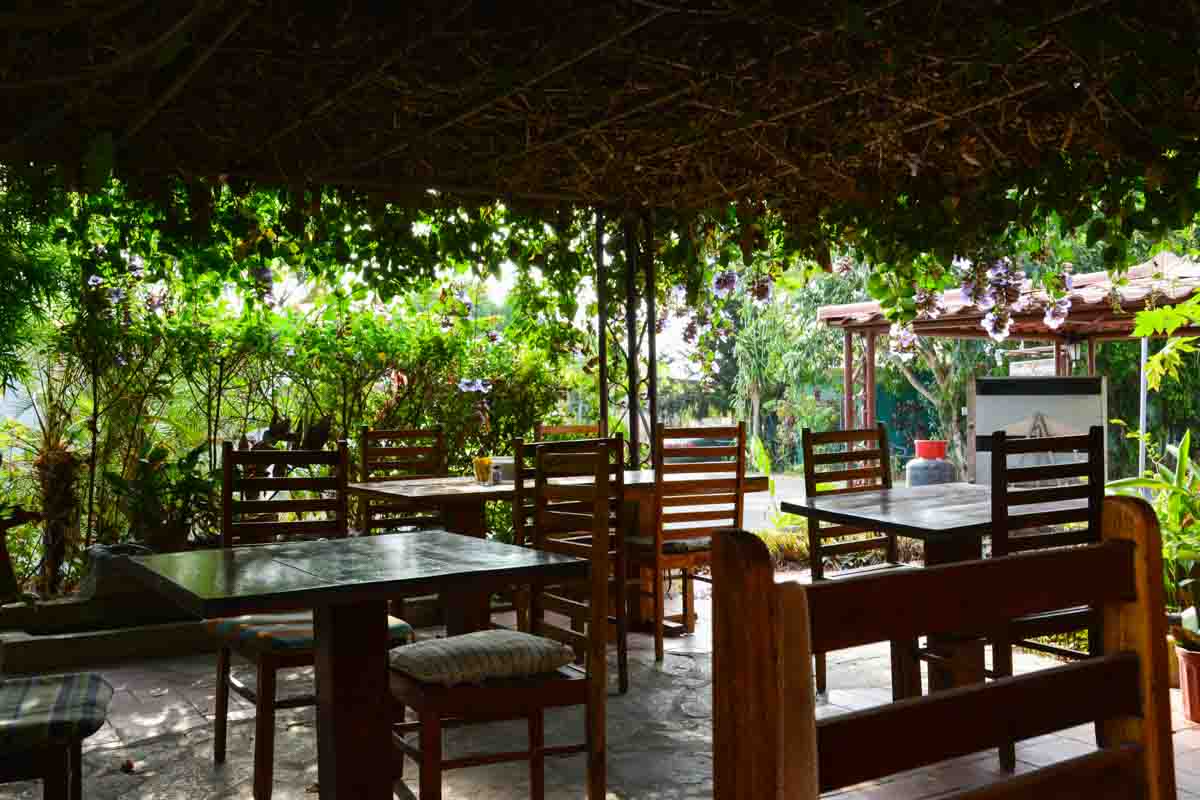 Vine-draped cafe in Pedasi
Boquete 
Boquete sits in Panama's highlands and is a popular ex-pat location.  The higher elevation makes the weather a little more temperate, springlike, and less humid. — Hence, why such a large group of ex-pats living in Panama choose it as home.  
Boquete has plenty of restaurants, cafes, hotels, grocery stores, banks, and shops. —  And it's only a 45-minute drive to David, the third-largest city in Panama.  With all the conveniences, services, and amenities a city can provide… including an excellent hospital.  
A coffee plant in the hills near Boquete
Bocas del Toro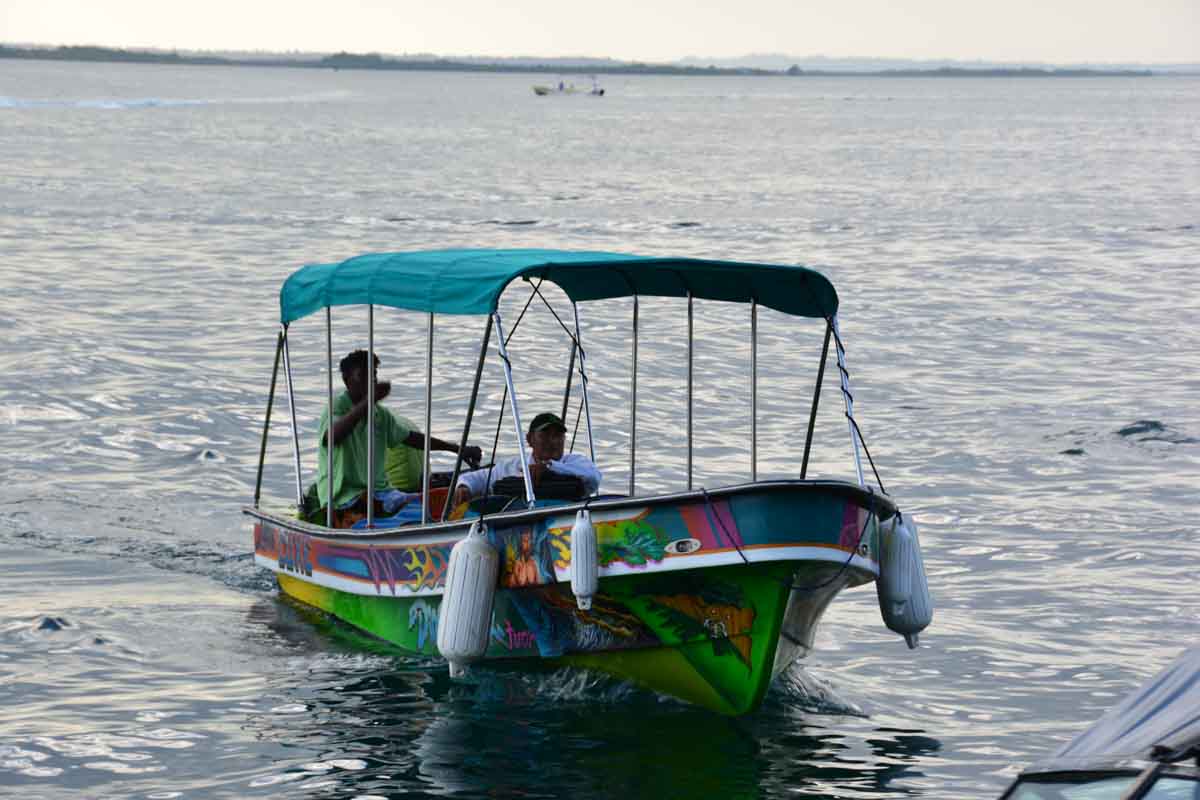 A colorful water taxi in Bocas del Toro
Bocas del Toro has a Caribbean vibe. — And water taxis are the main mode of transportation between islands in the archipelago.  It's a water-lovers haven, with snorkeling, swimming, surfing, paddleboarding, and boating.  
Bocas Town is on Isla Colon and reached with a one-hour flight from Panama City or water taxi from Almirante on the mainland.  It's a busy little Caribbean seaside town with lots of hotels, restaurants, cafes, banks, shops, and grocery stores.  
And while it rains almost twice as much in Bocas del Toro as the Pacific side of Panama, you'll often have sunny periods each day.  
Busy Bocas Town waterfront
Cost of Living in Panama
Panama is not the cheapest country to live in Central America, but its stable government, excellent infrastructure, potable water, and the strong economy are important assets.    
Living in Panama in smaller towns with a simple lifestyle is quite affordable.  And taking advantage of the Pensianado program helps reduce costs.  
Healthcare
Healthcare in Panama is excellent.  While the major hospitals are in Panama City or other urban areas, there are clinics and small hospitals throughout Panama.    
Dental care is also top-notch and affordable.  
Retirement in Panama
Panama encourages foreign retirees as residents and is known for some of the best retirement benefits in the world.  Their Pensianado program is available if you can show income or pension of $1,000 per month, with no age restriction.  Some of the benefits include:  
One-time duty exemption for importing household goods up to $10,000  
Import tax exemption for a new car every two years  
25% discount on utility bills  
25% discount on airline tickets and 30% on other transportation  
20% off on medical consultations  
10% discount on dental exams  
10% off on prescription drugs  
50% discount on movies, cultural, and sporting events  
50% discount on hotels mid-week, and 30% on weekends  
Panama has a Person of Means Visa for foreigners who invest $300,000 in Real Estate and Bank deposits for a couple of years.  Panama now also offers a Friendly Nations Visa for visitors from select countries, including the US and Canada.  
Canadians and Americans can visit Panama for up to 180 days without a visa.  But they will need a passport valid for at least six months.    
Panama has a lot to offer retirees or long-term visitors living in Panama. — From year-round warm tropical climate to easy accessibility to outstanding retiree programs and availability of excellent healthcare.