Full Time RV Living —

For Snowbirds on a Shoestring
Full time RV living can be a perfect choice for snowbirds on a shoestring. It's a casual, affordable lifestyle with a lot of freedom.
If leaving your home unattended for the winter while you escape to somewhere warm is a burden to you — And living small entices you — Maybe you should consider full time RV living.
Full time RVers live where they park. — And when they tire of where they're at, they can simply pack up and move on. — It's a relaxed lifestyle.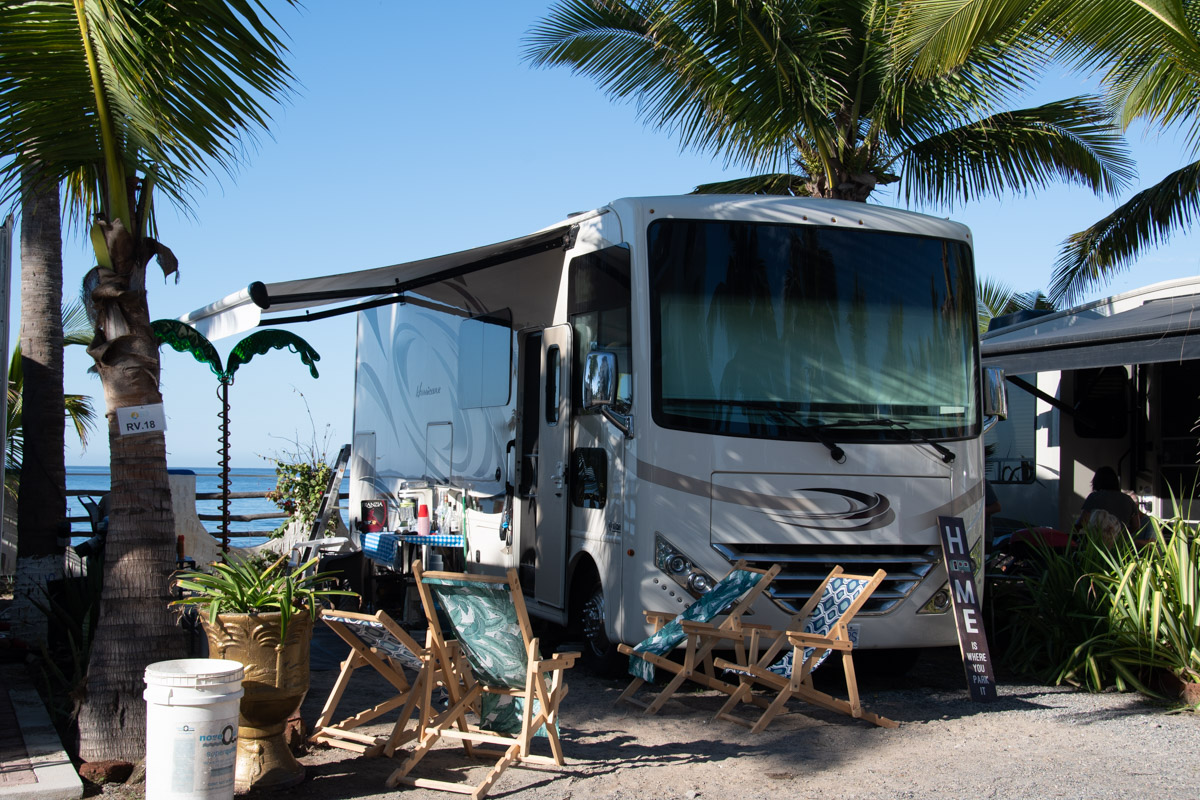 Motorhome on a beach in a Mexican RV Park
Full Time RV Living
You can customize your full time RV living to suit your lifestyle. Your options are many and varied.
You can be a road warrior and travel far and wide, summer and winter alike, if you choose. — Making bucket list trips to new places and revisiting your favorite haunts.
Or set your RV up on a permanent site and join the growing number of stationary RVers.
Many long-term RVers drive to their favorite winter location in the US Sunbelt or Mexico, then head back north to visit family and friends for the summer.
Others just summer in their RV. — And come the cool fall weather, they winterize their rig and fly to their favorite snowbird destination for the winter.
RV Types
RV types include many sizes and configurations. From bumper pull trailers to 5th wheels, from large Class A motor homes to compact Class C's and even Vans. But full time RVers usually choose mid to larger RVs.
Of course, when you're parked, you'd like to have a large RV, but a smaller, more compact unit is more practical when you're on the road. Consider your travel habits, budget, and driving ability when choosing your RV.
Most folks are looking for a comfortable living space rather than lots of sleeping accommodation for full time RV living. And a well-laid-out kitchen is also a necessity, as is storage space.
RVs come in many sizes and types
Bumper pull trailers are often the most economical choice. You will need a tow vehicle and probably a stabilizer hitch.
5th wheel trailers typically offer layouts that cater to full time RVers, usually with more storage space than hitch trailers. They are also heavier units, and you may need a larger truck to pull them. While they are known to tow better, they tend to be higher and catch more wind than a bumper pull.
Motor homes are also popular for full time RV living. One feature many folks like is having access to their bathroom and kitchen without getting out of their vehicle. And many RVers tow a small car behind their motor home for a runabout.
Downsize and Simplify Your Life
Downsizing is a given. But, you can choose to downsize drastically, only keeping a few must-haves for on the road… Or pack away and store some of your favorite furniture and things, so it's easy to get set back up if you decide to change your lifestyle.
Be realistic with what you keep, though. You surely won't need everything and may end up in a smaller place one day… Or purging again.
And clothes? Your weekly laundry will give you a good indicator of what you actually use. RV living is usually quite casual. So you won't need an extensive wardrobe.
Having less stuff to care for is very freeing in and of itself. And after going through the difficult task of selling your house, clearing out all your extra items, and paring down your possessions, you will find it easier not to buy more unnecessary things.
Ask yourself before you get something — Do I really need it? — Is it useful? — Do I have a place for it? You'll save money and the need to store or get rid of it eventually.
Go Digital
Set yourself up to be a digital nomad. Ensure all your bank accounts are set up for online banking and bill paying.
Arrange paperless delivery for your credit cards and bills… online or by email. Then you can pay them with your online banking.
Scan and save your important documents so they're available wherever you are. Use digital libraries for your books, magazines, and music. Read more here on going digital.
On the Road
Living on the road is an adventure. You see new places and meet new people.
Take advantage of opportunities to investigate and visit iconic and fabulous sites as you travel. And if you have no particular schedule, take a few extra days when you find somewhere you like. — Chill out and spend some time there.
Get to know the area and the locals. — And live like a local while you're there. Shop in their grocery stores, check out their farmers' markets and artisan fairs, walk in their parks, attend local events, and meet a few folks.
When you're on the road between destinations, you can overnight at RV Parks… check out national, state, or municipal parks… stop at rest areas, or Walmarts enroute… or even stay over on a quiet street somewhere.
Stationary RV Living
Stationary RV Living attracts an increasing number of full time RVers. You'll find some RV Parks cater to full time RV Living.
RV Park sign for long-term sites
This lifestyle attracts both working folks and retirees who want to live small and economically. Many folks who live in their RV year-round skirt them in and hunker down for the winter.
On the other hand, snowbird Rvers tend to hit the road when the weather gets frosty. They set up for the summer in a recreational RV park or a long-term RV site in a community near family and friends. Then come late fall or early winter, they start traveling south.
Our RV parked by it's deck
And Head South For the Winter
Come chilly weather, most snowbirds living full time in their RV load up and head out for warmer weather in the US Sunbelt or Mexico.
Some folks have a favorite haunt they drive to and hang out for the winter… while others hit the road and check out the sites as they tour southern locales. Taking your RV with you allows you access to all your familiar comforts of home while on the road.
Still, others winterize their RV and fly south to enjoy their chosen sunny, warm winter hideaway. We've recently decided on this option after being road warriors for years.
While we loved the adventure and freedom of living on the road, the long drives and high fuel costs eventually wore us down.
Living small and being footloose is not for everyone. — But full time RV living suits many folks looking for a simple, affordable lifestyle.